Gosport HGS Family History Group meet monthly for Talks to Inspire and Help your Research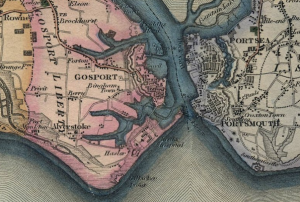 Meets monthly to Inspire and Help your Family History Research.
Welcome to the Gosport Group page. This friendly and welcoming group meets at 7:30pm, on the second Wednesday of each month. Gosport is a town with a fascinating history located on a peninsular between Portsmouth and Southampton. Our members come from Gosport itself and the surrounding area. We are always very pleased to welcome visitors and new members.
Why Join Gosport Group?
Joining your local group provides an opportunity to meet other people who share the same enthusiasm for family history and to share their skills and expertise. It's also an opportunity for you to help others break down 'brick walls' in their research. You could also get help with your own. The talks, workshops, and social events also provide a great opportunity to extend knowledge and have fun!
The group meetings are either a talk from a speaker on a family history related subject, or a Members' Evening. They are usually arranged around members interests or a particular topic request. The meeting is followed by tea/coffee and biscuits, which gives everyone the opportunity to meet and chat with the speaker and each other.
HGS Gosport Group Events & Meetings
The group organiser is Marilyn Lovett. She can be contacted using the form on this page.
Find Us Here:
The Scout Hut
Clayhall Road,
Gosport
Hampshire
PO12 2BY
Meeting at 7:30pm on the 2nd Wednesday of the month.
Choose a Group
Latest News
Were you a Beverley Babe?
Beverley Babes The Royal Naval and Royal Marine Maternity Home As Britain prepared for the possibility of going to war with Germany, the Southsea based Royal Naval and Royal Marine Maternity Home, known as Bowland, made plans to evacuate their premises, with patients and staff to be taken to Beverley House, Wickham. On the 1st […]
---
Solent Tragedy of Gosport Men 1810
An 1810 Hampshire newspaper carried an appeal for information by the wives of two Gosport men who drowned in a Solent tragedy. Who were these men?
---
A 1900 Case of Accidental Death in Haslar Creek
Reports of coroner's inquests appear in local newspapers and are a great resource for your Hampshire family history research. This inquest includes the surname Coffin and Sait, do they appear in your Hampshire family history tree?
---
All News...
---
Archives: