A 1900 Case of Accidental Death in Haslar Creek
Coroner's Inquests are a brilliant resource for finding out more details about the death of a relative. Sadly, not many coroner's records remain in existence, which is why newspapers are such a great source of information.
This case from the Hampshire Telegraph, Saturday 20th January 1900, tells the tragic story of one young man.
The coroner, Mr GOBLE, held an inquest in the "Thatched House" in Gosport on Monday 15th January 1900 on the death of Aron George Ralph SAIT, aged 18, who lived with his father at 28 Little Beach Street. Mr PINK, a painter, employed him. On Saturday the 13th, against advice, he rowed Claud COFFIN, who was engaged in evangelical work with the Seaman's Mission, across Haslar Creek to a launch moored in the creek.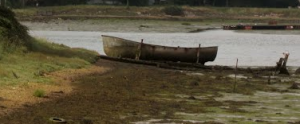 Shortly after this his skiff was seen empty in the creek so it was assumed that he had drowned. The body was recovered on Sunday morning by a boatman named FROST who used a fish-hook grapnel to bring the corpse to the surface. Evidence was given that he had previously suffered from two fits and although he was a good swimmer Dr HUNTER said that he must have suffered a fit whilst in the boat and had subsequently fallen overboard. The verdict of Accidental Death was returned.
Interesting extras…
The seafarers Mission in Gosport was set up by Henry Cook, who founded the first ragged school in Gosport and then established the mission for lonely seafarers
COFFIN is a Hampshire surname, does Claud appear in your family tree?