HGS Conference Day 2017
(including AGM)
Saturday 20th May 2017 09.45-16.00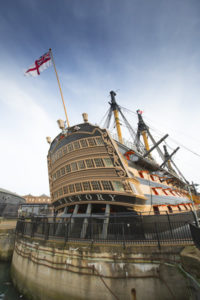 Princess Royal Gallery,
HM Royal Dockyard Portsmouth
Admission £5 includes buffet lunch.
Open to all.
Featuring genealogy experts and talks from guest speakers
Records of Chancery and Exchequer – Michael Gandy, renowned genealogist and editor of Genealogists' Magazine, will talk about Records of Chancery and Exchequer. He will reveal how our ancestors can turn up as plaintiffs, defendants or witnesses and outline the information available to us at TNA Kew.
Seafaring Ancestors on Camera – Dr Simon Wills has been a genealogist for over twenty-five years. His particular interest is the lives of our maritime ancestors, perhaps because his father served in the Royal Navy, his grandfather was a fisherman, and his great grandfather was coxswain of the Poole lifeboat.
Limited seats available.
Book today to avoid disappointment