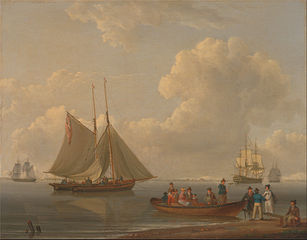 Solent tragedy of Gosport men 1810
An 1810 Hampshire newspaper carried an appeal for information by the wives of two Gosport men who drowned in a Solent tragedy. Who were these men?
A notice appeared in the Hampshire Telegraph on 1 January 1810 from two wives whose husbands were lost following a Solent tragedy. The men were Nicholas JEMISON and William BURTON who were drowned when their Wherry No 426 was sunk. They were returning to Portsmouth from St Helens, Isle of Wight, when the accident happened late in 1809.  A generous reward was offered by the wives for anybody who could provide information on the bodies being washed ashore.
The HGS Burial Index does not contain a burial for either man. Either the bodies were never recovered from the Solent, or if they were, they were unidentified.
Descriptions of the Missing Men
Nicholas JEMISON was aged 36, five feet five inches tall and lived in King Street, Gosport. His description was of fair complexion with light sandy, curly hair. He had a tattoo on his arm with his name and the hands of a man and woman joined with a heart between. He was wearing a brown Flushing jacket and trousers, blue Guernsey frock, white shirt with flannel under, red drawers, light boots and had a plaid handkerchief around his neck.
William BURTON was aged 50 from Cold Harbour, Gosport and was the same height as Nicholas JEMISON. His complexion was dark and his brown hair was starting to go grey.  When lost in the Solent he was wearing a short brown jacket and waistcoat, short blue trousers, cotton shirt, water boots and a blue spotted handkerchief around his neck. He also had a silver watch in his pocket.
Researching the Families Left Behind
Research of HGS indexes reveal that before the Solent tragedy happened, Nicholas JEMISON married Mary Jane COATES in St Mary's Church in Alverstoke on 2 November 1802. There are no baptisms for any children for Nicholas and Mary Jane in the HGS baptisms index. William BURTON married Mary JONES on 31 March 1783 in St Mary's Church in Alverstoke.  They had four children baptized in Holy Trinity Church in Gosport. Mary Ann Daniel on 1 May 1785, John on 18 April 1787, Francis Sophia on 10 November 1790 and Carolina on 9 May 1792.
By Roy Montgomery
HGS Research Centre