Hampshire Baptisms, Marriages and Burials Collections on CD
The Hampshire Genealogical Society's CDs of Hampshire parish baptisms, marriages and burials are an extensive collection of transcribed data from the C15th onwards. The transcriptions cover all Hampshire parishes except the Isle of Wight, and are the result of hundreds of hours work over many years, collecting and cross checking by a team of dedicated volunteers. A resource well worth having at your fingertips.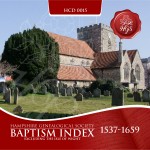 Select the CD from the list, point and click to see the CD details
You can purchase online using PayPal. We can ship worldwide – all you need is to make your payment in Pounds sterling via PayPal.