*ARCHIVE* HGS Bookstall's visit to Dorset Family History Show – Saturday April 22nd, 2023
Under a rather grey sky on a cool spring Saturday morning in April, six stalwart HGS Volunteers made their various ways to St George's Church Hall in Poole for the Dorset Family History Society's Family History Day.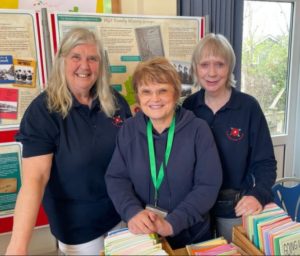 The HGS Exhibitor's stall takes some putting together using two long tables on which we lay our various items for sale. These include CDs of our Baptism / Marriage / Burial Indexes and our unique Monumental Inscriptions records, plus our ever-popular Village Booklets! We also sell the many Alan Godfrey Maps of Hampshire Towns, the Eve McLoughlin books on family history-orientated topics, plus WEA books on various aspects of Portsmouth life and localities. We also offer an eclectic mix of second-hand books on various family history / Hampshire / history subjects that we have managed to accumulate from various sources over the years.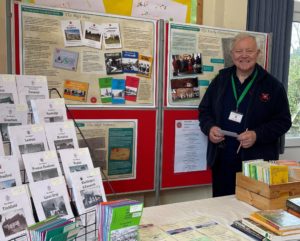 Our stand is now completed by having two 2m banners, one at each end of our tables, advertising our Society and website, plus three 2m high by 1m wide display stands on which are attached various information boards relating to HGS and which form the back of our 'pitch'.
We were warmly welcomed by several Dorset FHS Volunteers who, firstly, showed us where to set up our stand then, secondly, where to go to have our complimentary tea or coffee! The day started officially at 10.00am.
There were at least twelve other Societies and companies in the Hall; some being other County History Societies alongside companies selling Family History-related items. These included stalls offering to renovate and / or colourise old photographs, binders and clear pockets, etc., and a stall offering family history-orientated mugs / place mats / mouse pads / cushions (cushions?!)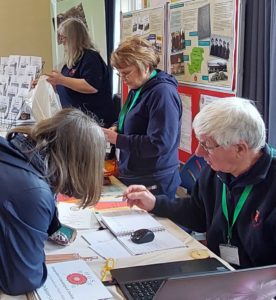 The Show was well attended, with the room full for most of the day. The Dorset FHS said that attendance was up 32% on last year and we reaped the benefit by having many people stopping by to ask general questions on their family's history, or, with specific enquiries re Hampshire ancestors. We also managed to sell quite a bit of stock!
The Show ended at 3.00pm, after which we all took everything down again, loaded it into the car and then drove wearily (but happily!) home.
The Bookstall will be set up complete for your perusal all day at our Annual Conference Day at Littleton Hall, Winchester, on Saturday June 17th.
Our next planned 'Away Day' will be on Saturday June 24th, when we are taking the HGS Bookstall to York for a larger-scale Family History Show with www.FamilyHistoryShow.com
Tony Sinclair, HGS Executive Committee member and Bookstall Manager.