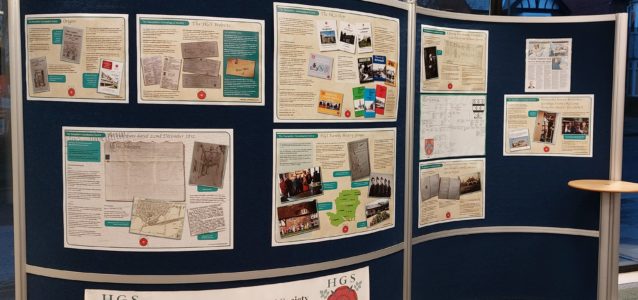 *Archive* Hampshire Genealogical Society Exhibition at Hampshire Record Office
This 'pop-up' exhibition, located in the foyer, marks the start of the 50th year since the foundation of Hampshire Genealogical Society (HGS) in 1974. The purpose is to provide awareness of what HGS is, what it does, and what it has to offer to anyone interested in Hampshire-based family history.
The exhibition highlights the work of HGS volunteers over the years, ranging from transcribing parish records and documenting memorial inscriptions to volunteering on our help desk at Hampshire Record Office (HRO).It also introduces our current project – the digitisation of about 90,000 handwritten cards comprising an index of Britons dying overseas. This is one of the biggest projects ever undertaken by HGS which will take until 2024 to complete.
Work on our exhibition began in May 2022 when HGS members Phil Brown, Jane Painter and Tony Sinclair met together to plan what themes should be covered in the display boards. Phil documented the origins and development of HGS, including the changing style of the Hampshire Family Historian over the years. They also started research into original documents and old books belonging to the society and used them to demonstrate how such items can be invaluable resources for family historians.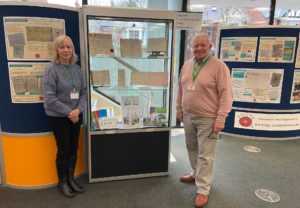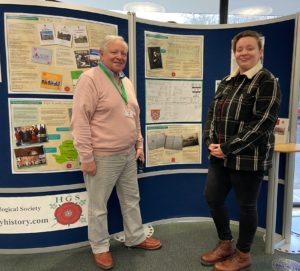 Tony presented the story of how an old book kept in the family for generations helped his daughter Hannah trace the link through her maternal line to the Dorset poet William Barnes.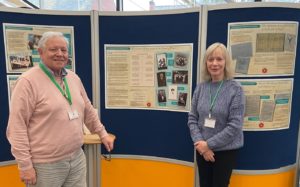 Jane presented a case study detailing how a family meal in a local pub sparked her interest in family history!
Using HGS resources she was able to trace her 3x great grandfather John Frederick TEES to Titchfield. His son-in-law had been the landlord of The Queens Head, Titchfield, the same pub Jane had visited.
The exhibition also documents how the current partnership between Hampshire Genealogical Society and Hampshire Record Office came into to being and how the fact that HGS has been based at the Record Office for the last 18 months has benefitted both partners. We have also taken the opportunity to display some of the items available in our online shop, which can also be purchased from the volunteers at our Help Desk just inside the Search Room.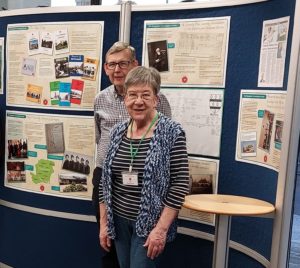 You can visit our exhibition during Hampshire Record Office opening hours – Tuesday, Wednesday and Thursday 9.30am – 4pm from January 3rd until February 23rd.
Hampshire Genealogical Society at Hampshire Record Office
Sussex Street, Winchester, Hampshire SO23 8TH