*ARCHIVE* 1921 Census Presentation! Tues 1st Feb 2022
Special Announcement
Tuesday, 1st February 2022, is a date for your diary!
We're delighted and very excited to tell you that HGS shall be hosting a special Zoom presentation entitled, "Introducing the 1921 Census of England & Wales". Paul Nixon, from FindMyPast, will be telling us all about the newly launched 1921 Census and how we can get the best from it for our research.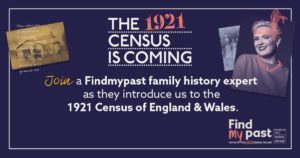 Join us for an unmissable exploration of the biggest new arrival in family history. After years that FindMyPast have spent digitising and transcribing this unique snapshot of our recent history, discover the stories and secrets contained within. Along with the historical context, tips for effective searching and using it to trace elusive relatives, we'll learn how the 1921 Census will help us understand our ancestors', and perhaps our own, lives better.
More details and how to join in will be publicised closer to the date.
It's going to be great show!