*ARCHIVE* Sat 18th Sept – Heritage Fayre, Bitterne
After a very challenging couple of years the Pear Tree 400 programme is drawing to a close – a year later than anticipated but with the same packed programme reflecting the 400 years of history of Peartree Church, Bitterne.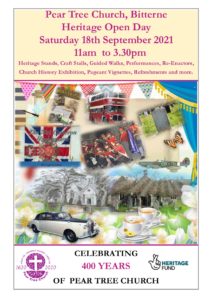 We would like to thank all our friends, partners, supporters and attenders, and of course the generous support given to us by the Heritage Lottery Fund whose flexibility and understanding allowed us to achieve the majority of our aims.
So we hope you will join us on Sat 18th September to celebrate and enjoy our Heritage Fayre, the programme of events is here, please feel free to share.
With all best wishes
Dr Cheryl Butler ANEA MITG FRHS FRSA
Hon Fellow University of Winchester
BALH Personal Achievement Award 2014
City of Southampton Award 2018