Discord in Marriage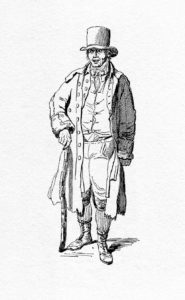 Interesting little snippets from some of the old newspapers include brief advertisements where husbands have declared that they will not be responsible for their wife's debts. One item from James LINDSAY appeared in the Hampshire Chronicle printed on 4th September 1820. He said that he would not be answerable for any debts incurred by his wife after 31st August 1820. This was the date in Portsmouth when he signed the notice. James had married Jemima ROMAIN on 4th October 1818 in Portsea St Mary. As far as can be seen they never baptized any children during their short marriage.
Another similar advert in 1820 appeared in the same paper printed on 17th April. This was from Peter HEPBURN and was dated and witnessed by R. HAYNES in Hardway on 11th April. It was a bit more specific in that he said that his wife Hannah was "now living separate from me". He would not honour any future debts contracted by her. I could not find a marriage for them but there were baptisms some years before in Portsea St Mary to children of a Peter and Hannah HEPBURN. These were Jennet Elizabeth born in 1805, Pultney Peter born in 1807, Isabella born in 1809 and Hannah born in 1811. The first two were not baptized until 1811.
Some time later a similar advert appeared in the Hampshire Telegraph of 19th November 1850. This was by William MAYBEE of Steep whose wife Ellen had absconded from his home. He was cautioning trades people not to trust her with money or goods on his account. He would not be responsible for any debts that she may incur. It appears that William married Ellen WARREN in Alverstoke on 27th July 1850 so their time together was very brief. However, the separation must have been equally as brief because they were together again by the time the 1851 census was taken.
At that time William's widowed mother Sarah was farming 101 acres at Ridge Farm in Steep and had William and Ellen living with her. William was born circa 1808 in Nutbourne in Sussex and Ellen was born in Portchester. She was baptized on 24th May 1823 in Portchester to parents Charles Gayton and Sophia WARREN. Also living with the family at Steep were Sarah's grandchildren Emma and Charles who were both born in Selsey. This may indicate that William was a widower when he married Ellen.
Roy Montgomery
Email sunnymead@ntlworld.com