RIP Private Herbert Frank French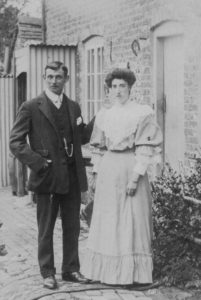 Herbert Frank FRENCH was born on 21st April 1884 at 11 Hyde Close in Winchester, the illegitimate son of Emily. On 18th January 1908 he married Sarah Ann (Annie) BIGNELL in Meonstoke and then settled in the village to raise their daughters Emily and Ivy. Herbert was initially in the Territorial Army then when WWI started he enlisted into the Hampshire Regiment, possibly in August 1914. He regularly sent postcards and letters back to Meonstoke, the first from Hyderabad Barracks in Colchester after having a medical and being kitted out in Winchester. A later letter in August from Harrow on Hill was a precursor to the move to France with the first card from France dated 1st September.
He was initially in 'A' Company 1st Battalion but in November he was moved to 'C' Company. Correspondence between Sarah and Herbert continued with the last letter sent by her bearing the postmark of Corhampton and dated 30th December 1914. Herbert was killed on Saturday 19th December though Sarah was not aware of this when she posted the letter. It was later returned to her with "Killed" written on the envelope along with "in action 19/12/14" added in pencil. After this she also received many letters of condolence including one from another soldier in the same Company who said that Herbert was killed in action between 8 and 9am on the 19th and his death was 'virtually instantaneous". He was buried the following day in one of the regiment's cemeteries.
Subsequent letters came from the War Office in June 1915 confirming that she was to get the settlement of £2-15-7 as the beneficiary of his will, and that she would get £5 from the War Gratuity. Prior to this she also had a letter from the Royal Patriotic Fund in March saying that she was to get £7 that was to be paid to her in small weekly payments. This was in effect a fund that had previously been established to provide support for widows and children of men killed in action.
Herbert was buried in the Lancashire Cottage Cemetery at Ploegsteert in Belgium. This was a medium sized cemetery that was started by the East Lancashire and Hampshire regiments in November and now houses over 250 graves, including some that are unidentified. His name is also among the many that are recorded on the war memorial plaque that is inside the Meonstoke church. Sarah Ann was supported by the Bignell family and continued to live in Meonstoke where she raised Emily and Ivy. In her old age Sarah Ann lived alternatively with Emily and Ivy. She was living with Ivy and her husband William TALMAGE in Chichester when she died on 31st August 1964.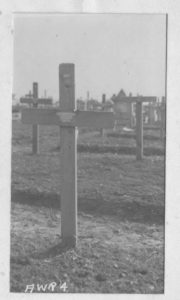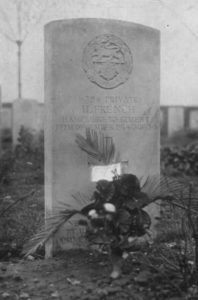 Roy Montgomery
Email sunnymead@ntlworld.com