Bigamy in 1820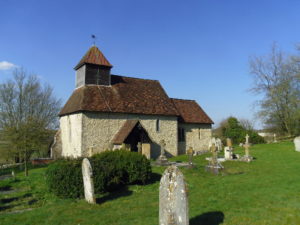 The Hampshire Chronicle printed on 5th June 1820 carried a brief article on page 4 referring to three prisoners who had been committed to the County Gaol.  One of the prisoners had been accused of bigamy but whereas most bigamists were men this was a woman.  The report said that she was Harriet WILMOT who had married James ALLEN while her original husband, John WILMOT, was still alive.  The only details given were that the second marriage took place on 2nd October 1818 in Chilcomb.  Being a woman who was accused of bigamy this prompted a bit more research to see if any further details could be found.  A later report in the Chronicle on the 17th July was for the Hants Midsummer Sessions in Winchester.  There was no mention of Harriet but there were four unnamed prisoners who received short sentences and one was acquitted.  There were also twenty-seven who had no bill presented and so Harriet may have been amongst any of those.
The searches created a problem that put the accuracy of the report into question. The alternative is that the details given to the court were incorrect.  A search of the HGS Marriage Index found that a Harriet WILMOT did marry James ALLEN in Chilcomb but on 25th October 1813 and not in 1818 as reported.  The Chilcomb register confirmed that James came from East Stratton whilst Harriet was resident in Chilcomb at the time.  A further search found that a John WILMOT had married Harriot JONES on 23rd May 1803 in St Maurice in Winchester.
Looking for further evidence of James and Harriet ALLEN I did find some baptisms that took place in East Stratton. The first was for James on 2nd October 1814, then Eliza on 25th May 1817, followed by Henry on 6th December 1818 and finally for Mary Ann on 17th February 1822.  With the link that James was living in East Stratton when he married this must be the family.  The newspaper report did not mention where Harriet was living at the time, only where she got married.  The gap of baptisms between 1818 and 1822 presumably may also be attributed to her spell in prison for bigamy.
The next thing was to search in the census returns to see if they were still alive and if so where they were living, and maybe where and when they were born. I did find a possible James ALLEN in the 1851 census living in Nutley but unfortunately the writing and the quality was very poor.  As far as possible it looked as though James claimed he was a widower and the two people with him were only recorded as 'H'.  It looked as though James was aged 60 and born in Stratton.  What is strange is that the first 'H' was a son possibly also born in 1791.  The second 'H' was his wife born in 1823.  Apart from James none of this makes much sense.   Ten years earlier James was in Nutley but living on his own.
Looking for possible burials there was a Harriet ALLEN aged 53 buried 3rd February 1832 in Nutley.  James ALLEN was also buried in Nutley on 20th October 1859 aged 72.  The ages and locations indicate that these were the same people who were married in Chilcomb.  These ages put both births circa 1790 which would make them teenagers when married in 1803!  However, there was a James baptized on 2nd October 1785 in East Stratton which would at least make him a little bit older.  No other relevant marriages have been found to disprove that there was any other marriage for John WILMOT and Harriet that would have resulted in the bigamy charge.
Roy Montgomery
Email : sunnymead@ntlworld.com