Tragedy off Hurst Castle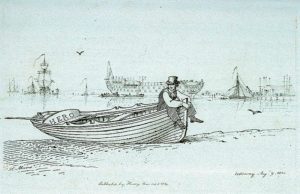 Identical reports in the Hampshire Chronicle and Hampshire Telegraph, both published on 14th February 1820, describe a tragedy that happened off Hurst Castle on Friday 5th February.  Stephen RAISBECK who was the chief officer at the preventive station on Hurst Castle took a gig with three men out into the Channel looking for smugglers.  The other rowers in the gig were James HALL, James CLARK and H. CULLEN.  When they were off Beacon Bunny there was a heavy sea running which resulted in the gig being upset with all four men being thrown into the sea.
After having spent half an hour in the water Stephen RAISBECK was washed up on shore but unfortunately the other three men all perished. Their bodies were recovered the next day and the subsequent inquest returned the verdict of "accidentally drowned".  The report confirmed that all three men were then buried in the same grave on 11th February with the mourners consisting of the officers and men from the preventive stations at Hurst Castle, Yarmouth, Christchurch, Bourne and Leap as well as the Lymington custom house boat.  The HGS Burial Index confirms the burials as taking place on the 11th in Milton although it has CULLEN's name as being John, however there is a question mark against John so the name as written must be hard to interpret.  The Index also confirms that HALL was aged 37, CULLEN was aged 35 and CLARK was aged 29.
The report also stated that HALL left a wife and three children, CULLEN left a wife and five children and that Clark left a wife. Even more tragic was that Mr. HALL arrived from Canterbury to visit his son on the same day that he drowned, only to be able to see his body after it was recovered.
Roy Montgomery
Email : sunnymead@ntlworld.com