Poor Law Union Gazette – 2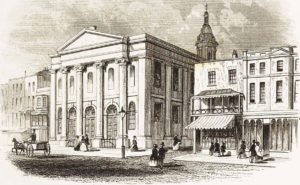 Another interesting entry appeared in the Poor Law Union Gazette on 25 April 1857 naming Lewis POSNER, formerly of Southampton, who the Southampton Union would like to get their hands on. He had deserted his wife and seven children leaving them chargeable to the Union.  As well as giving a detailed description of Lewis the entry recorded that he was aged 42, had served in the Hungarian Wars, and since then had been a plumber and glazier.  He had left Southampton in October 1954 with a Dr. BECK who had since died in Hull.
The report did not name his wife and children but based details in the 1851 census this would have been Caroline POSNER and the children were probably Louisa, Eliza, Sophia, Henry, James, Emily, and Fanny. The interesting thing here is that only Emily and Fanny had actually been fathered by Lewis.  I was unable to find anything further on Lewis but with Caroline being a local woman she provided quite an interesting story.
Searching through the HGS indexes, the census returns and the GRO indexes revealed that Louis POSNER had in fact married Caroline EARLY in All Saints in Southampton on 31 October 1852. Their children were Emily Mary who was baptized on 7 August 1853 and Fanny who was baptized on 30 May 1855.  Both baptisms took place in All Saints church.
Looking back to the 1851 census I found Caroline EARLY who was living with her husband George, a brewer's labourer, in Upper Bannister Street in Southampton. The children living with them at that time were Louisa, Eliza, Sophia, Henry and James.   This indicated that when Caroline married Louis POSNER she was a widow and this was confirmed when I found the burial of George EARLY on 9 November 1851 aged 32 in All Saints in Southampton.
George EARLY had married Caroline POWELL in Southampton on 10 May 1840 and in the 1841 census they were living in Fox's Tenements in the parish of St Mary in Southampton. Caroline POWELL was one of nine children baptized on 16 May 1819 in Nursling to parents James and Sarah.  Living with them in 1841was their baby daughter Caroline.  Their children were Caroline Louisa Sarah baptized on 21 March 1841, George James baptized on 23 April 1843, Eliza baptized on 7 May 1845, Sophia Ann baptized on 26 May 1847, Henry Arthur baptized on 12 June 1849 and James who was baptized on 6 April 1851.  The first two children were baptized in St Mary whilst the rest of the baptisms were all in All Saints.
After Caroline was deserted by Lewis/Louis she had a further daughter who was Ellen and who was baptized in All Saints church on 24 December 1859. There was no indication as to who Ellen's father may have been.  It was possible to track Caroline's existence in Southampton through the census returns up to her death which was registered in the fourth quarter of 1898 in Southampton.  In 1861 she was a widowed laundress living at 19 Upper Bannister Street with Henry and Sophia from her first marriage, James and Emily from her second marriage and her illegitimate daughter Ellen.
Trying to find the family in the 1871 census presented a problem but I did eventually find them incorrectly enumerated at PARSONER. An understandable mistake.  Caroline was still a laundress but she was now living at 1 Southampton Street.   It looks as though she may have had a room in the Belle Vue Hotel, which was the first entry in that street, and where she may have been employed doing the laundry.  Proof that this was the correct family comes from the children, James and Ellen, who's ages along with their mother all fitted into place.  In 1881 she was a housekeeper  living alone in the Polygon, then ten years later was living at 3 Brinton Terrace in Southampton with her children James and Ellen, and grandchildren Fanny POSNER aged 15 and Sidney STONE aged 3.
Roy Montgomery
Member 3759