Winchester Independent Register – RG4-726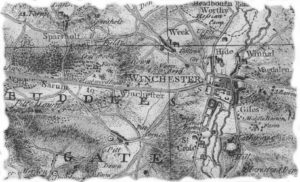 The registers for the Independent Chapel start in 1716 and many entries contain useful details. The spelling of the names written here are exactly as they were written into the register.  Different ministers conducting the baptisms decided to record different items of information in addition to the dates and names.  Between 1716 and 1747 Edward PAIN was conducting the baptisms and generally also included the date of birth, where the family lived and the names of those present.  On odd occasions he also recorded when the child died.  Typical of these entries was when Sarah GRACE was baptised on 24 June 1719 in her father's house.  She was born on 15 June 1719, her parents were John and Sarah who lived in Winchester and there were names of another eight people who were present, including Mrs. WESTCOMBE who was the midwife.  Tragically the child died on 22 September 1719.
Mr. GARDNER conducted the baptisms from 1747 to 1756 and his entries generally had fewer details, including not recording the date of the birth. From 1757 to the end of the register in 1785 Daniel BORMAN was conducting the baptisms, and his entries had different details yet again.  He didn't record the date of birth or who was present at the baptism but did include where the parents lived as well as naming the parents of the mother and where they lived.  Typical was Elizabeth Anne WEEKS who was baptized on 21 April 1766.  Her parents were Edward and Elizabeth who lived in the City of Winchester.  The mother's parents were Jno. and Elizabeth WOODS who lived in Botley Grange, North Stoneham.
In the 19th Century several Regiments were based in or near Winchester.  The soldiers often had their wives with them and so numerous baptisms of their children were recorded.  As well as recording the rank and the regiment, other details included where the father came from as well as that of the mother.  One such entry was for Agnes GIBB who was baptized on 13 October 1769 and whose parents were Richard and Agnes.  He was a soldier in the Royals or First Regiment of Foot and came from Frazerburg in Aberdeenshire.  The mother's parents were Richard and Agnes WHITWORTH of Edinburg.  In these entries the name Scotland was never used and instead was often called North Britain or N.B.  This was recorded at the baptism of Sarah WAUGH on 18 July 1769.  Her parents were George & Marianne who lived in the Soak, Winchester whilst the mother's parents were Alexander and Jane MAXWELL who lived in Dumfries, North Britain.
Roy Montgomery
Member 3759