Portsmouth Independent Orange Street Register
Mixed Independent details in Portsmouth v.2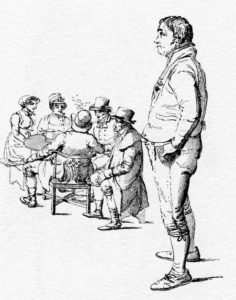 Orange Street Independent register
Many interesting entries appear in the 1785 to 1837 Independent register for the Orange Street chapel. Some entries include the address where baptisms took place while others have additional details.  An example was Octavius Henry JACKSON who was born on 6 February 1829 and baptized on 13 February 1830 in Elm Grove, Portsea.  His parents were Erasmus and Barbara Helen.
Entries for non-Portsmouth families
Examples of additional information include William ROLLINGS born on 8 January 1809 and baptized on 23 February 1809. His parents were James who was a private in the Worcester Militia and his mother was Ann.  James SINCLAIR born on 12 March 1810 and baptized on 12 March 1812 in Portsea.  His mother was not named but his father Edward was a corporal in the Royal Military Artificers.  Another entry was for Jane ROWLAND who was born in Fairford, Gloucestershire and baptized in Portsea on 23 July 1794.  Her parents were William and Ann,
Entries for Independent families not resident in Portsmouth
Several families living in London appear in the Independantr Orange Street register. Entries start for 11 children of Thomas and Mary GROVE when Mary Bittucup was born on 17 Jun 1808.  She was baptized on 28 October 1808 in her parent's house in St Martin in the Fields.  Another five baptisms of their children took place in the same church up to 1817.  The next baptism was for Kezia on 22 October 1819 in Clapham Surrey.  This was followed by George in Portsea on 13 October 1820.  Back to Clapham for three more baptisms with last for Eleanor on 18 May 1827.  Thomas GROVE married Mary BLADES on 24 August 1807 in St Martin in the Fields.  Two other baptisms were held in the house of Thomas GROVE to children of William and Sarah PALMER.  First was Jonathan born 9 October 1809 and baptized on 14 Nov 1809 along with Berthia Blades GROVE. Second was Joseph Blades born on 31 January 1812 and baptized 18 May 1812 with Thomas Blades GROVE.
Other London Independents
Charlotte Page WILSON born on 23 September 1804 to parents William and Sarah. She was baptized on 12 November 1804 in her parent's house in Monument Yard, London.  Next baby Mary was born on 30 January 1806.  On one page she was baptized on 28 November 1806 but two pages further in the register the date was 29 October 1806.  Both were in Monument Yard.  Later on Emily Sarah born on 5 March 1808 was baptized on 19 May 1808 in Fenchurch Street.  Last child was William George born 15 September and baptized 19 October 1810 in the parish of St Anne in Middlesex.
Roy Montgomery
HGS Research Centre
Source – TNA RG4/867