Don't Always Believe It
The tendency is to accept what appears in official documents as being correct. As usual there are always exceptions to the rules and in genealogy there can be quite a few.  Some examples that I have come across over the years are described below and I am sure that there are just as many more that can cause brick walls or confusion.
Inaccurate entries in parish registers.
Whilst not many C of E and non-conformist baptism registers record the date of birth there are a number that do and one would expect the date of birth to be before the baptism. However, there are examples where according to the register the child was baptized before it was born.  In the example below from the Portsea Orange Street Chapel it clearly gives the birth as May 27 1793 but the date on the left gives the baptism as July 22 1792.  The other entries on the page are all from 1792.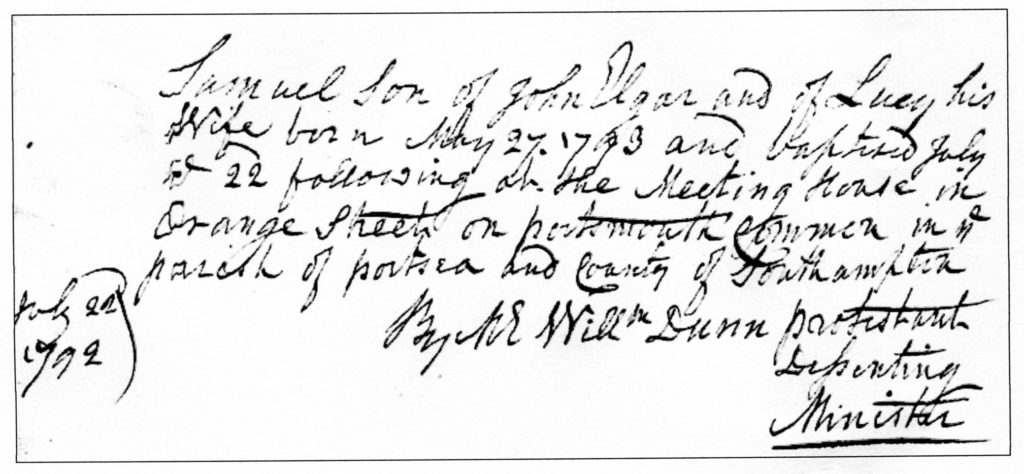 Wrong details on certificates.
Never automatically assume that the information written onto birth, marriage and death certificates is correct. I have inherited two marriage certificates for my father Scott MONTGOMERY with the first saying that he was a bachelor when he married Emma PHILPOTT in 1923 and who died early in 1932.  When he married his next wife, my mother Audrey FOSTER, later in 1932 he was a widower.  To complicate things further although they lived near Alton they were married in Reading and used his sister's address as their residence.  Based on details in the first certificate I would never bother to look for an earlier marriage.  Many years later a photo turned up from a cousin in Canada with a photo of my father and his very first wife Florence GRACE who he married in 1915 and who I never knew about.  She died in 1918.  All the details given on the certificates are only as good as that given by the person making the declaration.
Misleading details on certificates.
Other details on certificates can be correctly reported but could be misleading for a searcher. For example, my Uncle Ted BRIDGEMAN lived in Alresford but died on 8 August 1955 in Park Prewett Hospital in Basingstoke, consequently his death was registered in Basingstoke and not in the Winchester district which is where one would expect.  Another more recent example is one of my granddaughters who has lived all her life in Waterlooville but her birth was registered in Winchester.  The reason being was that her mother lived in Meonstoke and when she married she moved to Waterlooville but still kept her original GP who was in the Meon Valley area.  Consequently when she fell pregnant her GP referred her to the Winchester hospital, which is where her daughter was born and registered.
Be suspicious of birth places recorded in the census.
When looking for a person who was possibly born on Portsea Island or in Portsmouth never assume that this is the place of birth that will appear on the census. The possible locations on the island that can appear in the census as well as Portsmouth include Portsea, Southsea, Landport, Kingston, Milton and possibly Eastney, all of which are correct in the eyes of the people who were born and probably still lived there.  In this case it is better to first search for a person born in Hampshire and then decide from the results whether it was on Portsea Island or not.
Duplicate census entries
It is possible for a person to appear more than once in a census return, especially when the individual is working away from home. An example is Frederick DANKASTER who was born in 1857 in Cornwall.  In 1881 he was recorded as a seaman RN living in Stoke Damerel with his wife Lucy M. at 20 Catherine Street.  In the same census he was also recorded as a Leading Seaman on board the gunnery ship HMS Cambridge.  Although there is a slight spelling variation between Dankastar and Dankester it is the definitely the same person. Possibly what had happened was when the enumerator called at the address in Catherine Street he asked who the head of the household was, and quite rightly Lily answered that it was her husband.  Had he asked who was the head in the house at that time of asking he would have got a different answer.
Another almost similar situation involved a coast guard Chief Officer John Hinton BAILEY who was another person on board HMS Cambridge at the time. He was listed among the ships crew and was also recorded as visiting at 10 Cambridge Road in Stoke Damerel.  However, an astute searcher who bothered to look at the top of the census page would have seen a handwritten addition of "not" indicating that although appearing on the crew list these crew members were not on board at the time.
Electoral Rolls.
These can be very useful for tracking people in the 20th Century before the census records subsequent to 1911 have been released.  Certainly just after WW I these were recorded every six months though later they appeared annually and listed everybody eligible to vote in that address.  These can be very accurate but can be misleading when not kept up to date.  My parents lived in "The Alps" in Beech near Alton and were recorded in residence there from 1925 until they moved to "Stone Hut" nearby by early 1934.  In 1925 my Uncle Norman was recorded in "The Alps" as an absent voter having just returned from Canada.  After my parents moved, the new owners of what was "The Alps" renamed the property "Fairlea Cottage", however, the electoral roll still recorded Norman as an absent voter in "The Alps"  in 1939 long after his complete record should have been deleted from the register.  Obviously my parents updated the roll when they moved but nobody thought about deleting Norman.
Duplicate entries in parish registers
It was possible for the baptism of child to appear in two different registers at the same time. One example of this is in St Mary's in Portsea where there were two chapels attached to the main church.  What has happened is that baptisms in St John's Chapel were entered in that register but were often also duplicated in the register of the parent church.  In 1790 two children of William and Susannah BAKER, John born on 14 February 1789 and Elizabeth Susannah born on 26 June 1790, were baptized together in St John's on 24 August 1790.  The same entries appear in the St Mary's register with the only differences being the father's name in St John's appeared as Wm. whereas in St Mary it was William, and a slight variation in the birth date.
Another example are the children of William and Jane LAWS. Elijah John, Ellen Mary and William Henry are recorded in the baptism register on 24 August 1828 in St Paul's Chapel in St Mary with the same names and baptism date also appearing in St Paul's in Southsea.  Possibly the two churches were somehow connected at that time.
Surname spelling variations in newspapers
 Local newspapers can be a very valuable source of information, but it is not unknown for the same surname to be spelt different ways in the same newspaper. In the Hampshire Telegraph issue dated 1 August 1863 on page 1 there is an advertisement for the bankruptcy sale at St John's Brewery in Forton.  The brewer was John DOTTRELL who was in trouble and the advertisement listed all of his furniture and stock in trade that was to be sold.  On page 7 in the same paper and under the hearings of the Portsmouth Bankruptcy Court there is a detailed report of the hearing into John DOTTERILL of St John's Brewery in Forton.  Obviously the same person, but different reports had interpreted the name differently.
In 1861 John DOTTERILL aged 52 was a brewer employing 2 men. Living with him was his wife Eliza and 9 children with ages ranging from 24 to 11 months.  Eliza was only aged 38 and was his second wife.  It looks as though John married Harriot Hall Phillips in Gosport on 10 October 1830 and there was a Harriett DOTTRILL aged 36 who was buried in Alverstoke on 22 December 1847.  The second marriage probably took place on 8 April 1851 when John DOTTERILL married Eliza LINNINGTON in St Mary's, Portsea.  Even in the early Victorian period it is wise to assume that surnames were not always spelt the same way.
Roy Montgomery
Member 3759