Odiham School Teacher
Teacher at a private school in Odiham around 1900
Ellen Valentine James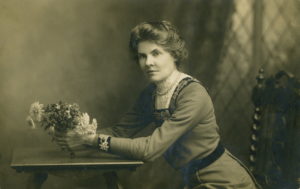 HGS member Peter GODWIN's Great Aunt was Ellen Valentine JAMES. She was the youngest of three sisters and was born on St. Valentine's Day 14 February 1869 in Notting Hill.  Her parents were Henry George JAMES who had married Ellen MOREY in the City of London in 1865.  In 1881 Henry was a furniture dealer employing 3 men and living at 68 Alderney Street.  In 1891 he was an upholsterer living at 76 Lancaster Road in Kensington with wife Ellen and daughters Florence and Annie.
Move to Odiham
Reputedly due to ill health Ellen Valentine was sent to Odiham for the country air. By 1881 she lived with her Uncle and Aunt, George and Mary Ann BUCKLEY at 37 High Street.  Mary Ann was her mother's sister and both were born in West Thorney in Sussex.  George was born in Ireland and was the Relieving Officer for Odiham and later also the School Inspector.  The family later moved to Cemetery Hill.  George died in 1916 aged 86 and Mary Ann died in 1924 aged 87.
School teacher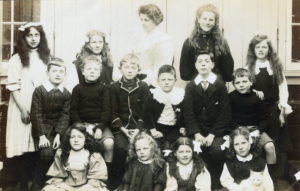 Ellen Valentine was recorded in various census returns as being a teacher at a private school. She possibly owned the school because a post card sent in May 1906 gave brief details. She had reopened the school with four new pupils and one more to come.  The next term would also see another new pupil.  In 1911 she was still living with George and Mary Ann so the school was probably a day one.  No further details about the school are known so Peter would be grateful if anybody can help.
Flying Memories
Some of Ellen's memories before WW I were of aircraft flying around Odiham. One was a Cody monoplane and the other was the Dragonfly.  The Dragonfly was probably the Martin-Handasyde No.4. Although the RAF did not use Odiham airfield until 1925 it is possible these planes flew from the farm where the base is now located.
End of the story
Being brought up in a strict Victorian society Ellen Valentine remained a spinster as did her sister Florence. Annie did eventually marry but not until she was 33 and then to Albert GODWIN.  Later Ellen Valentine moved from Cemetery Hill to Alpine Cottage in King Street, Odiham.  She died on 19 October 1959 possibly in a Winchester Hospital. She was buried in Odiham Cemetery.
Peter Godwin
Written by Roy Montgomery
HGS Research Centre