Inquest verdict of Visitation of God
Term used in a coroner's verdict to explain an unexplained death
Hampshire inquests
The Hampshire coroner's records were all destroyed which means that no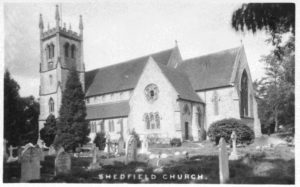 official records exist. The best remaining source is from local newspaper reports though not every inquest and verdict was reported.  When reported the content varied from very brief to quite detailed.  Examples of the brief ones follow.
Elisha Bastable
His death was reported in Hampshire Advertiser 28 March 1840. He was a labourer aged 49 living in Broad Street, Point, Portsmouth.  Evidence from his wife at the inquest on 24 March said he suffered chest pains.  She went to a nearby druggist for medicine but found him dead when she returned.  The coroner Thomas MARTELL gave his verdict that he died by Visitation of God.  He was buried in Portsmouth St Thomas on 29 March.
Southampton and New Forest inquests
Reported in Hampshire Advertiser on 11 April 1840 were three similar verdicts given by coroner Mr. TODD.  An illegitimate child aged 3 named William TOBY died at Eling.  Cause of death was mortification of the bowel and he was buried at Eling on 3 April.  His mother was Adelaide Eliza Augusta TOBY and he was baptized William Henry Oliver TOBY on 11 July 1836 in Eling.  Elizabeth COUSINS was found dead in her master's kitchen at Bishopstoke.  John COLLINS 11 years old was found dead in his bed at Minesteed.  Both verdicts were Visitation of God.  Elizabeth COUSINS aged 50 was buried in Bishopstoke on 6 April.  John COLLINS was buried in Minstead on 5 April.
Visitation of God verdict again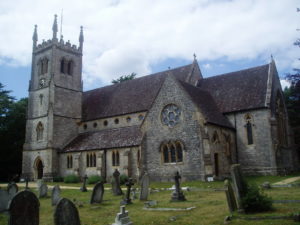 Reported in the same paper on 18 April 1840 the same verdict was returned three times by the same coroner. At Timsbury 3 month old Henry FIGGINS was found dead in bed.  At Shidfield in Droxford parish 9 years old Olive STRUGNELL died from disease of the heart. In Fawley widow Mary TAYLOR died suddenly after eating a hearty supper.  Olive was buried on 17 April in Shedfield. Mary aged 67 was buried on 19 April in Dibden.  More details with a different verdict was reported at the inquest on William HALL held in the Winchester parish of St Maurice.  He was a porter at the waggon office of Smith and Dawes and died from injuries falling off a ladder.  This verdict was accidental death.  William HILL aged 27 was buried in Winchester St Maurice on 14 April.  Possibly the newspaper had misprinted the name.
Roy Montgomery
HGS Research Centre