Uncle Tom of Portsmouth
Looking through old bits and pieces can prove rewarding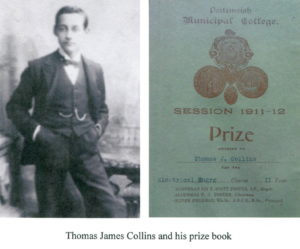 Gordon Brine
Many older HGS members will remember my husband Gordon BRINE who unfortunately died on 8 May 2007. As often happens at these times documents, photos and other memorabilia get put away.  These tend to become forgotten over the years.  Sorting through some of Gordon's family pieces recently I found an interesting book.  This was an English/French dictionary that had been presented to his Uncle Tom in Portsmouth in about 1912.
Uncle Tom
Uncle Tom was Thomas James COLLINS who was born in Portsmouth in 1883.  His parents were Thomas COLLINS who married Elizabeth Sarah BEAZLEY in late 1881.  Thomas died in 1883 leaving Elizabeth a widow until she married Henry Martin CHARLES in West Lulworth on 30 Jun 1890.  Witnesses at this marriage were Robert and Lydia BEAZLEY.  In 1901 Thomas James was living with his mother and step-father in West Lulworth.  By 1901 he had returned to Portsmouth and was living with his widowed grandmother Jane BEAZLEY in Wymering Road.
Back to Portsmouth
Ten years later he was still living with his grandmother this time at 94 Clive Road in Fratton. Also in the house was his spinster aunt Selina BEAZLEY.  At that time he was an exchange inspector with the National Telephone Company.  This may be why he did the course that resulted in the dictionary being presented at about that time.  Subsequently he moved to Reading for the remainder of his life but eventually died in Plymouth in 1971.
Old memories
Perhaps this is a hint to go back and look through old forgotten bits and pieces. Dig deep in that old box or at the back of the drawer.  You may well find something that meant nothing years ago but is worth its weight in gold today.
Sheila Brine
HGS member 7627