Fordingbridge rabies death
Fordingbridge boy dies from rabies
The Hampshire Telegraph published on 17 July 1826 reported the death of James HASKEL.  On 18 June he was attacked by a rabid dog.  The bites around the face were so severe that treatment was difficult.  At that time treatment for rabies was very limited. The surgeon Mr. BUDD from Fordingbridge had to rely on cauterization and the application of liquid ammonia.  The dog was pursued and killed.
Subsequent treatment in Fordingbridge
James complained of pain in the bitten area on Saturday 8 July. Mr BUDD tried to give him water but he could only take a few sips from a spoon. During this time James's pulse was feeble and intermittent. At times he also looked wild and became worse later in the day. He deteriorated further and started asking incoherent questions. Further treatment included being given water and laudanum by spoon but it could not be swallowed
The death
When Mr. BUDD accompanied by another doctor made the next visit on Sunday morning James was dying. He was tranquil and sensible but was frothing around the mouth. He died about half an hour after the doctors arrived. Rabies had claimed its victim. James was buried on 11 July in St Mary's church in Fordingbridge.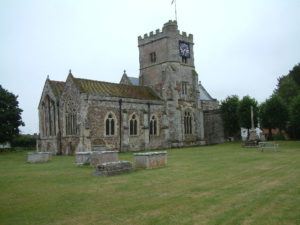 The Haskell family
James was baptized in Fordingbridge on 10 September 1820. His parents were Robert and Sarah who lived in Blissford at that time.  They had six children between 1803 and 1820 with James being the youngest.  Robert HASKEL married Sarah CHATER in Fordingbridge on 18 July 1802.  For most of their life they lived in Criddleton and Blissford.  Both places are east of Fordingbridge on the western edge of the New Forest.  The newspaper report described the family as being very poor.
Roy Montgomery
HGS Research Centre