"Lost" an Ancestor before 1837
Cannot find an ancestor before 1837?  Perhaps they were non-conformists.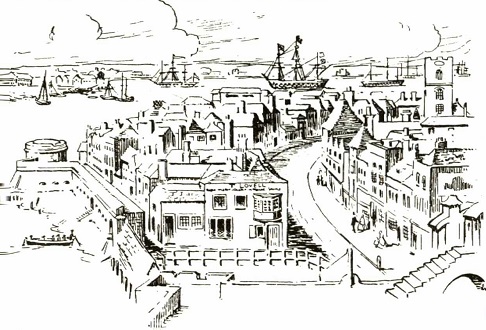 Could a missing ancestor have been a non-conformist?
Have you an ancestor you cannot find before 1837? Have you thought that they may be non-conformists? Ancestry have scanned the non-conformist registers handed to the authorities in 1837. These are in RG4 in the TNA. These registers in the Portsmouth area alone have in excess of 5,000 baptisms before 1837.
A KNIGHT ancestor
Possibly the earliest recorded baptism in the Portsmouth area was for John KNIGHT. He was born on 7 July 1676. His parents were Abram and Ann KNIGHT. His baptism was recorded in the Presbyterian register for 2 October 1676. The minister was named as John HICKS. Abraham KNIGHT's name appeared as a parent and later as being present at further baptisms until 1715. Abraham married Anne FALLICK on 1 June 1673. Two burials for Abraham KNIGHT were 12 February 1719 and 23 October 1721. Maybe for father and his son who was born on 10 March 1678/9. The marriage and both burials were recorded in the Portsmouth St Thomas registers.
What is in the registers?
Information in the registers can vary from brief details to a wealth of information. Briefest contains only the date of birth and/or baptism with the name of the child and parents. An example of more information is the BRENT families in the Portsmouth Presbyterian register. There were seven families with children born between 1785 and 1822. Although recorded in the Portsmouth register three families only had children born in Rotherhithe in Surrey. Three families only had children born in Portsmouth. Samuel BRENT was the only father who had children born in both Portsmouth and Rotherhithe.
Children born outside Hampshire
Some registers provide confirmation that an ancestor was not born in Portsmouth. Samuel and Jane WOOLMER had four children baptized on 1 September 1809 in the Portsmouth Wesleyan register. Thomas Ashton was the only child born in Portsea earlier in 1809. Samuel was born in 1804 in Kilmersdon SOM. Nathaniel was born in 1895 in Stroud GLS. Mary Cook was born in 1807 on the Isle of Portland DOR. In the register a Samuel WOOLMER was baptizing children from early 1808. Maybe the father was a Wesleyan minister who had been ministering in different chapels.
Examples of family details
Other registers provide different details. John & Elizabeth JAGO in the Portsea Bible Christian register baptized eight children on 25 December 1830. These were born between 1813 and 1829. John was a plumber. Elizabeth's parents were George and Sarah MASON. In the Portsea Baptist register Thomas and Mary Ann WADDELL baptized five children between 1819 and 1830. Thomas was a taylor [sic] living in St George's Square. Mary Ann's maiden name was FIELD.