Death notices in old Hampshire newspapers
Hampshire deaths in old newspapers can reveal useful information about the deceased. Among the deaths listed in the Hampshire Advertiser of 22 December 1855 were several interesting announcements of deaths home and abroad. Combine the details with information from HGS parish indexes and a personal story emerges.
Two Simple Examples of Hampshire deaths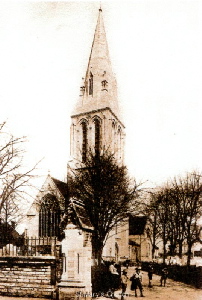 Mr G BURDEN aged 46 died on 17 December in St Mary's Street Southampton. A quick check in the HGS Burial Index revealed that he was George Burden buried on 21 December in St Mary's church  Southampton.
Amongst the other Hampshire deaths was Thomas Harding BURKE aged 29. He died on 15 December at Shirley and the HGS Burial Index had his burial on 19 December in Shirley. The announcement stated that his brother was the late James Burke who had been captain on the Liverpool registered ship Patritian. James Burke was also a former Shirley resident.
Stray Hampshire Deaths
Not all notices relate to Hampshire residents but are often Hampshire related. George B BERNARD aged 65 died on 12 December in St John's Road, London. The announcement stated that for many years he had been a resident of Romsey. The HGS Baptism Index revealed that George and Betty Ann, or Betsey, Bernard had children baptized in Romsey. There were seven baptisms between 1813 and 1824. This register also revealed that George was a schoolmaster.
A Personal History
The announcement made for John Walter WILKINSON is a good example with a personal history. He died on 17 December in Portchester aged 80 and was buried 26 December in Wymering. He was Assistant Com-General in the British Army. His service career included Holland and the whole of the Peninsular Campaign where he served under the Duke of Wellington. He was awarded a medal with three clasps.
Hampshire Deaths Overseas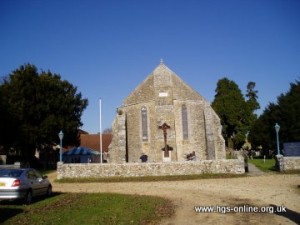 Overseas deaths announced include Henry FLETCHER who died on 28 November aged 49. He was the only surviving son of Mr Fletcher of Beaulieu. Henry died from cholera in Brujuk, Tchekmaji near Constantinople. A check on the HGS Monumental Inscription Index for Beaulieu revealed that there is a stone in the churchyard of the Blessed Virgin containing seven family names. Henry's father was James who died aged 63 on 27 January 1829.  His mother was Ann who died aged 39 on 19 September 1812. The other names included Henry's brothers, James Fletcher with his wife Sarah, and William Fletcher. The final name was his sister Ann WESTBROOK.
Deaths in Hong Kong
The reported Hampshire deaths extended to the Far East. William Henry DOLLER died in Hong Kong on 9 October 1855. He was aged 36 and died from dysentery and fever. He was the only son of the late Mr Doller of Winchester. Checking in the HGS baptism and burial registers found Henry's baptism on 24 February 1830. This was in St Thomas's church in Winchester to parents Henry and Louisa. His father aged 61 was buried on 28 March 1839 also in St Thomas.
Roy Montgomery
HGS Research Centre