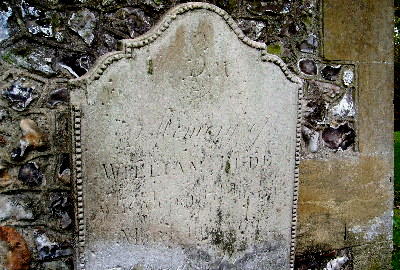 HGS Hampshire Monumental Inscriptions index
Hampshire Monumental Inscriptions useful resource for family historians
Hampshire Monumental Inscriptions on are found on gravestones, plaques and other memorials provide useful information for family historians. Find out about why it is vital to capture your inscriptions before they erode in front of your eyes. 
Monumental inscriptions or MIs are normally placed by relatives to remember their deceased loved ones. Most memorials are in churchyards, churches and cemeteries.
The HGS has an index of Hampshire Monumental Inscriptions which now covers most rural parishes and some larger cemeteries. HGS volunteers have been transcribing MIs since the 1970s and work continues today. Earlier transcriptions are a snapshot from that date. Some stones have since disappeared or become unreadable due to decay. Details from these stones will remain recorded on our index.
Not all burials have memorials, so the index is not a burial register. The index can tell you where your ancestor is buried and confirm a date of death.  Often family relationships are given and sometimes the deceased's occupation and/or achievements.
Why Stones Disappear
Many stones are removed to ease maintenance.  One example is St George's in Waterlooville. Here the stones have been placed around the edge of the churchyard but often remain readable.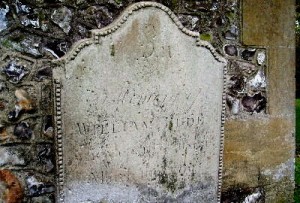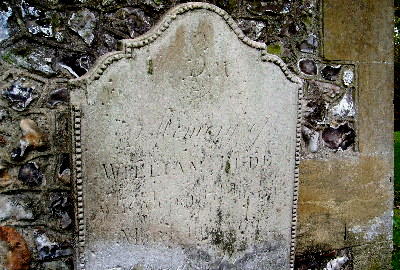 Another example is St Andrew's in Medstead. The removed stones here were used as paving inside the church but most are now hidden by carpet.  The only stone left in Medstead churchyard is for William BUDD who died on 12 March 1795. It probably survived because it is against the church wall.
The Medstead burial register is incomplete so some stones can add missing details.  One example being John Budd of Hattingley who died on 1 March 1756 aged 59. Another is Robert BUDD who died on 8 February 1732 aged 83.
How MIs can help with Research
A typical stone with genealogical information is in Meonstoke churchyard, for the SMITH family.  It tells us that Charles Smith's wife Mary Ann died on 21 January 1921. Charles then died in October 1926.  Further information says they had a 22 year old grandson, Pte Walter GOODCHILD, number 9589 of the RB Regt, who was missing on 25 September 1915.
Checking in Ancestry found Walter in the 2nd Bn Royal Berkshire Regt.  It confirmed his date of death. The Register of Soldiers Effects mentioned his mother Mrs Louisa F HARPER and brothers Francis R and Gilbert C.  Different surnames of mother and son prompted more searching.  Louisa Frances SMITH was baptized on 8 September 1861. She married Edwin GOODCHILD in 1892 but Edwin died in 1900.  A Frances L GOODCHILD lived in Chilcombe with her sons in 1901.  In 1904 she married Arthur John HARPER.
Roy Montgomery
HGS Research Centre