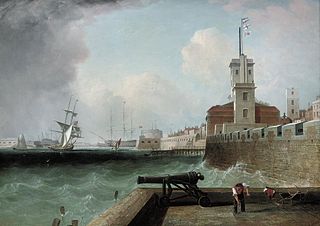 Hardship cases in a Portsmouth court
After the Napoleonic wars many suffered hardship that often resulted in lawbreaking and people being taken to court.
Among the cases from the Portsmouth Quarter Sessions reported in the Hampshire Telegraph on 27 January 1817, were two that received the compassion of the Portsmouth court. They were William ATRELL who stole 10lbs of cordage and John CHAMBERLAIN who stole 5lbs of copper. They were still found guilty of theft from the dockyard and had to serve two months in prison with hard labour.
Who was William ATRELL?
William was a labourer and in his court statement he said that he had a wife and four children, two of whom were sick at the time. His wages were 12s 6d per week out of which he had to find 9s for bread.
The purchasing power of 12s 6d in 2013 was just £39-93 and for 9s was £28-75.
In order to assist his family he had been allowed to work on the passage from Portsmouth to Gosport but after the war this work had stopped.  He had worked for eleven years in Portsmouth dockyard.
Researching the ATRELL family
Using the HGS indexes it was found that William Jeremiah ATRILL married Elizabeth GRIFFITHS in Portsea St Mary on 2 July 1808.
Their first five children were William baptised on 14 Feb 1808, followed by Sarah Emma on 6 November 1810, Richard Henry on 19 July 1812, Elizabeth on 18 September 1814 who later died and was buried on 24 April 1815, and finally Elizabeth Ann on 21 April 1816.  Details with the last baptism said that William was a labourer living in Dock Row.
After his spell in prison William's family had four more children between 1819 and 1828.
Who was John CHAMBERLAIN?
John was a scavelman, someone who kept waterways clear, and had worked in the dockyard for 26 years with good character. He said that he was a widower with four small children that cost him 10s per week for bread.  He also had to have a woman take care of his children whilst he was at work.
Researching the CHAMBERLAIN family
Unlike the Atrell family it is not clear who John's wife and children were. The HGS indexes do show a John CHAMBERLAIN marrying Ann STILL in Portsea St Mary on 11 September 1796.
There are four baptisms with parents John and Ann although by 1817 the children would not be "small".  The first two were Elizabeth on 29 November 1797 and John on 19 January 1800, both in Portsmouth St Thomas.  The other two were Ann on 11 April 1802 and Edward on 29 July 1804 this time in Portsea St Mary.
There were two burials for an Ann CHAMBERLAIN in Portsea St Mary in 1806 and 1807. No ages were given so it cannot be proved whether one may have been the wife of John.  It is possible the family were nonconformists in which case the John and Ann above would be a different family.
Roy Montgomery
HGS Research Centre