Useful family tree information from Portsea will
How the early Portsea Will of John BIGGNALL provided useful Family Tree information.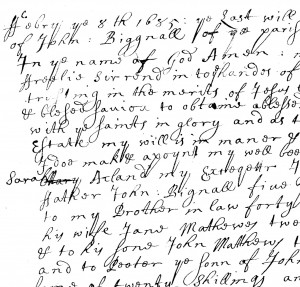 Family trees can benefit greatly from genealogical information contained in wills.
The Portsea will of John BIGGNALL written on 8 February 1684 is a good example, with the large  number of names and relationships of the beneficiaries  he included.  Unfortunately, early parish registers of Portsea and Portsmouth have a lot of missing detail so there is a problem with finding John's descendants to complete the family tree.
The BIGNALL family beneficiaries
Unusually, John made a bequest of £5 to his father John BIGNALL, confirming that his father was alive at that time.  From his  other bequests it would appear that John was a bachelor.  He made his sister Sarah ACLAN the executor of his will as well as leaving her his clothing and other personal items.  He left forty shillings to his brother-in-law John MATTHEWS, twenty shillings to John's wife Jane, and twenty shillings to each of their children, John and Peter.  Other bequests were to Francis [sic], the daughter of John BIGGNALL and her sister Ann, who received twenty shillings each.  This was the third John mentioned in the will but with no indication of who he was, where did he fit into the family tree?  He signed his will as John BIGNOL which shows he had some education.  The witnesses were Wm. SMITH, William [unreadable] and Richard THOMAS.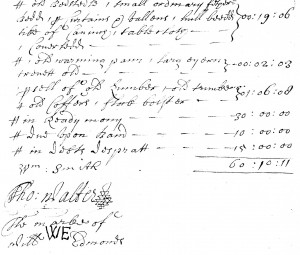 The Inventory
The appraisers of the inventory of John's estate were Tho WALTERS, William EDMONDS (who made his mark WE), and Tho. M. ARBER.  In his will John said he was from the parish of Kingston. The inventory describes him as a husbandman of Portsea.  It  was taken on 11 February 1684/5 and included such things as his wearing apparel valued at £1 15s, five dishes of pewter and one pewter chamber pot with a combined value of 10s.  His ready money was £30.  The total value of the inventory was assessed as £60 10s 11d.  This value corresponds to approximately £8,300 in 2014; it also meant that he had about £4,000 in cash.
 What more do we know?
There was a burial in Portsea St Mary for John BIGNELL on 10 February 1684/5. This means that his will (dated 8 Feb) was probably written on his death bed.  There are few other details from the registers to help with a later family tree. The possible father of Francis and Ann was the John BIGNALL, whose wife Abigail was buried in Portsmouth St Thomas on 30 December 1673.  He may have been the widower who later married widow Anne BRAGG in Portsmouth St Thomas on 23 June 1674.  One valuable lesson that can be learnt from old documents like this will is that there are no correct spellings for surnames.
Thanks to Hampshire Record Office, ref 1684A/06, for permission to use the illustrations.
By Roy Montgomery, HGS Research Centre