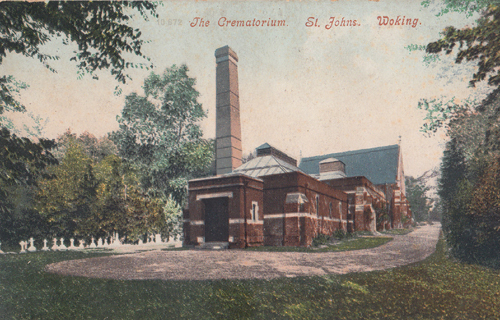 Early cremation of a Portsmouth man 1900
Edwin Fuller BURTON was one of the earliest Portsmouth residents to be cremated.
A brief report in the Hampshire Telegraph on 28 April 1900 announced the death of Edwin Fuller BURTON aged 64.  His address was given as Heidleberg, St Edward's Road, Southsea, however he died at The Cottage, Selsey on 20 April.  A later report in the same paper stated that the Selsey address was of his son-in-law E G ARNELL.
By train for cremation
Unusually, the body was to be cremated. On 24 April it was taken by train to Woking, one of the few British crematoriums at the time,  for  cremation the next day.  The ashes were brought back to Portsmouth later that day and taken to the residence of a Mr BAILEY.  On 26 April they were taken to Highland Road Cemetery where it was thought they were the first interment of cremation ashes in that cemetery.  The principal mourners were sons Harry and Bertie BURTON, and sons-in-law E G ARNELL of Selsey and A BAILEY of Southsea.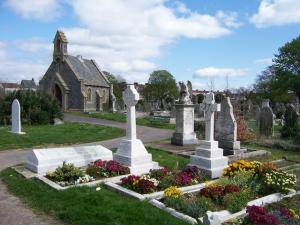 Edwin Burton's life
In the 1881 census Edwin was a 45 year old Railway Carrier Agent living at 11 St Paul's Square.  His wife  Jane and three children  William H, Herbert H and Alice E lived with him.  Also living with them was his 69 year old father Edwin H, a retired Baptist Minister.  This would explain why no baptisms of their children have appeared in the HGS Baptism Index.  In 1871 the family were living at 172 Commercial Road where Edwin was a linen draper.  He employed six men, five women and two boys with four of the men living in.  In 1861 his father appeared as Edward Harris BURTON with his wife Elizabeth living in Manor Terrace, Manor Place, Buckland and was the Baptist Minister at Clarence Street Chapel.
 Who were Edwin's children?
First-born was Fanny Rosalie in 1860, she married Edward George ARNELL in 1893 and they lived in Selsey, where Edwin died.  Following her was William Henry born in 1862, the mourner named Harry.  He married Elizabeth LEWIN in Portsea in 1899.  Next was Herbert Harris born in 1863 and was the Bertie at the funeral, though after this I've found no record of him.  The second daughter was Alice Elizabeth born in 1865, she married Alfred Albert BAILEY in 1886 and it was in their house where the ashes were kept before the funeral.
Memorial in Highland Road Cemetery
Following the cremation Edwin's name was added to a memorial in the cemetery alongside his wife Jane.  This confirmed that Jane died on 18 December 1893 aged 50 and that Edwin died on 20 April 1900 aged 64.
Roy Montgomery
HGS Researcher