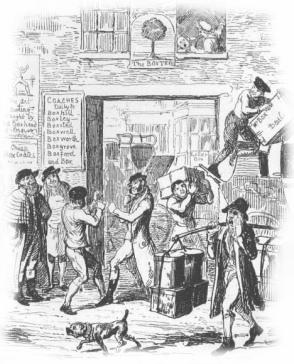 Portsmouth bigamy intrigue
A Portsmouth bigamy case
Bigamy cases can be very interesting but are more intriguing when the accused is a woman. On this occasion the offending marriage took place nearly thirty years before coming to court.
This case of Portsmouth bigamy was heard in the Portsmouth Police Court on 1 July 1890.  The prisoner was initially remanded in recognizance of £20. The case concluded on 8 July.
The parties involved
The accused was Elizabeth HOBDEN of 14 West Street in Portsmouth.  Her crime was to marry George GILLMORE on 27 January 1862 in St Thomas's Church whilst her first husband Samuel HOBDEN was still alive.  The first marriage was on 10 September 1853 in Keymer Sussex, when Samuel married Elizabeth ORAM.  The marriage broke down. Elizabeth spent a lot of time in Brighton where at times she cohabited with George GILLMORE.  In the summer of 1862 Samuel was living in Burgess Hill Sussex. Later that year he was transferred to Cuckfield Union workhouse. He died there on 28 October 1862.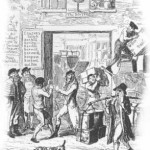 A move to Portsmouth
George GILLMORE was a victualler in Oxford Street, Brighton before moving to Portsmouth. At the time of the case he was the landlord of the North Star Tavern in Bridgemary near Gosport.  His bigamous marriage to Elizabeth in 1862 was  unsuccessful. An agreement was made on 23 June 1875 for George to pay Elizabeth an allowance under certain conditions.  In the meantime George had employed a woman called SHEKLETON from Southwick as his housekeeper. He was reportedly the father of her children.
The failed action
George was prompted to bring the case because Elizabeth arrived at his pub causing a disturbance and he wanted to officially have the 1875 agreement withdrawn. The action failed.  One reason was due to the prosecutors morals. He had lived in adultery with at least two women.  Another reason was that there was no conclusive proof that the HOBDEN who died in 1862 was the same man who married Elizabeth.
More research of the parties
Efforts to try and find more details resulted in only one confirmed census finding, in 1861, shortly before the  bigamous marriage.  In 1861 Samuel and Elizabeth HOBDEN were living together in Clayton, Sussex with their five children. These were Jane, Walter Thomas, Sally, Samuel and John.  Although the names of ORAM, HOBDEN and GILLMORE appear in later census returns, none can be positively identified as participants in the bigamy.
George GILLMORE's tenancy at the North Star was very limited.  Kelly's Directories reveal that in 1885 George was at the Castle in the Air, Quay Road, Fareham. A Frederick SAVAGE was at the North Star.  By 1889 George was at the North Star. By 1895 James GREEN was landlord of the North Star. The Hampshire Telegraph for 5 April 1884 refers to the license for the Castle in the Air being transferred from Adam BRIDGER to George GILLMORE.  Subsequent license transfers do not appear to have been reported.
By Roy Montgomery, HGS Researcher