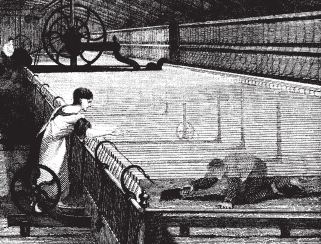 Hampshire children in Manchester cotton mill
In 1791 forty eight Hampshire children were sent as apprentices in a Manchester cotton mill.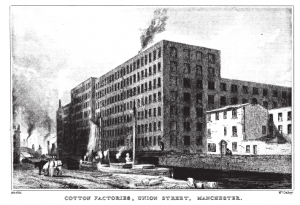 The children were sent from Alverstoke workhouse. The HGS Research Centre has a copy of a workhouse list reciting some details of the children and the transaction.
Apprentices wanted
Alverstoke parish officers sent the children in response to an advertisement in the Star newspaper in September 1791. The advert was addressed 'to the Governors and Overseers of the Poor' and appealed for boys and girls aged between nine and fourteen to be apprenticed in a cotton factory 'in an airy situation near Manchester'. They undertook that the children would be well provided for.
Bound until 21
All the children had to be approved by a Manchester agent. Alverstoke parish equipped each child with two suits of clothes and paid two guineas for those under 11. Forty two children were bound by Indentures to be apprenticed until 21 years old. Some were under the age of 9 but deemed healthy enough, with an additional premium payable. Although the parish had to pay for them, once these children were apprenticed elsewhere Alverstoke parish was no longer liable to provide for them. It was an attractive proposition.
Who were the children?
There were thirty two girls and sixteen boys.
Eight were under 9 years old, and the youngest was aged 6.
The oldest six were over 14 and listed as 'volunteers'. Presumably these went of their own will. Three of these – Edward SWEENEY (16), Philip LONG (17) and Elizabeth UNWIN (15) – appear to have younger siblings on the list since they share the same surname. Perhaps they volunteered in order to keep together and look after their siblings.
The HGS Hampshire baptism index reveals possible baptisms for some of the children. David MARCH aged 9 in 1791 is likely to be David MARCH, 'a foundling', baptised in nearby Gosport in September 1782.
Sisters Elizabeth CHAFFER aged 12 and Priscilla CHAFFER aged 9 in 1791 also appear as Gosport baptisms. They are recorded in 1779 and 1782 respectively as daughters of Francis and Ann. A clue to circumstances leading to their misfortune is that a Francis CHAFFER appears in the Gosport burial index for 1788.
The youngest child was 6 year old George PINK. The only possible Hampshire baptism for him was in West Meon in November 1785, the son of John & Sarah. We shall learn more about George later!
Where did they go?
The Manchester cotton trade was rapidly expanding in 1791 so there were hundreds of mills in the area. The manufacturers were named as Messrs James ACKERS and BEEVOR. Internet research revealed a James ACKERS, silk and cotton manufacturer, of Bank Mill, Salford, near Manchester.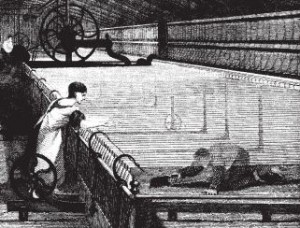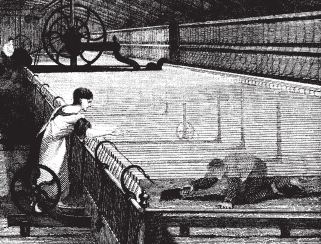 Cheap labour
Mill working conditions in 1791 were horrific, with little regulation. Children were employed as cheap labour, working up to 14 hours a day in a dangerous environment. They were expected to crawl under unguarded moving machinery to clean away cotton fluff or mend broken threads. Many were injured or lost limbs and some were killed. Workers inhaled cotton fibres that floated in the atmosphere, causing bronchial illness. We can only imagine what life was like for these unfortunate children.
Early deaths
Curious to discover the fate of the children, I searched the Manchester burial records on FindmyPast and Ancestry. Sadly the following burials were found that almost certainly relate to children on the list:
1 August 1793 – Priscilla CHAFFER aged 11 of Bankmill. Cause of death – consumption.
15 February 1801 – Ann HOBLING aged 17, Eccles St Mary parish, Manchester. Cause of death – consumption. Occupation given as 'factory', (Ann HOBLIN appears on the list, aged 8 in 1791).
26 December 1800 – Philip LONG aged 24 of Bankmill. Eccles St Mary parish, Manchester. Cause of death – 'fits'. (Although his age on the list is given as 17, Philip was not a common name at the time. Only one Hampshire baptism was found for a Philip LONG,  in Portsea in April 1777 at the age of 4 months. This would make him about 14 or 15 years old in 1791 and about 24 years old in Dec 1800.)
A happier tale

Concerned about 6 year old little George PINK, I was relieved not to find him in the burial records. After a search on FindMyPast I was delighted to find a George PINK enlisting in the First Regiment of Foot Guards, later known as the Grenadier Guards. His attestation dated 22 June 1803 was witnessed at Manchester, stating that he was born in Portsmouth, Hants and that he was 17 years old. His trade was given as wood turner.
His discharge papers were also found. Witnessed at Windsor on 2 November 1818, they give his reason for discharge as 'rheumatism' and his general conduct as a soldier is described as 'good'. His appearance on both documents is given as 5 feet 5 1/2 inches tall, fresh complexion, hazel eyes and brown hair.
Given his age and place of birth and the fact that the name Pink is fairly uncommon in the north, this is almost certainly the same person. I could find no conclusive records for George after 1818. He may have returned to Salford, and there is an 1836 burial entry in Manchester of a George PINK aged 51 of Salford. However, he may have returned to Hampshire where there are several possible burials, including some in Alverstoke.
Is one of these children in your family tree?
The list held by the HGS has been newly digitised by HGS volunteers. It forms part of a project to create a searchable surname index of miscellaneous data that we plan to make available  on this website. If you would like the Research Centre to search the list for your ancestors you can make a request using the research enquiry form on this website.
HGS Research Centre