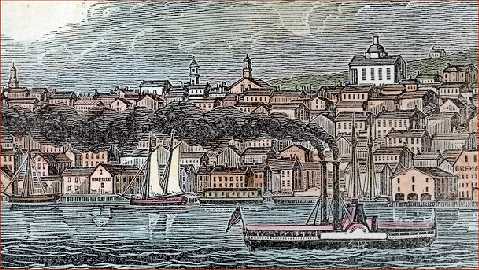 English man dies in Newburgh New York – 1850
Death of George Frederick BURTON in Newburgh New York 1850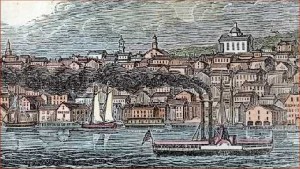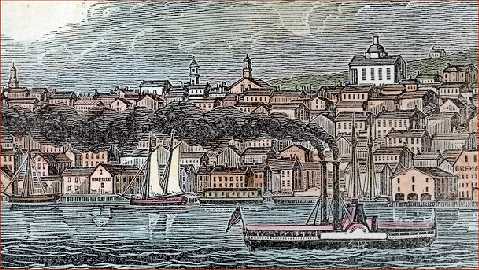 An announcement in the Hampshire Telegraph published 30 November 1850 said that George Frederick BURTON had died on 19 October 1850 in Newbury, Ulster County, New York.  He left a widow and five children.  His brother was the Reverend EH BURTON of the Clarence Street Chapel in Landport, Portsea. Presumably this brother provided details to the newspaper.
Who was George Frederick BURTON?
George should appear in the 1850 US Census and there was a George BURTON with his family living in Newburgh, Orange County. George and his wife Martha with their eldest daughter Adah were all born in England.  George and Martha were both born circa 1816 and Adah was born in 1842.   Subsequent children Zilla, Joseph and William were all born in New York State in 1844, 1846 and 1849. Searches in subsequent US census failed to find George or his family.
The English Connection
The US census only gives the country as place of birth so checking the GRO index was essential.  First check showed the birth registration for an Adah BURTON in the first quarter of 1841 in Ashby de la Zouch district. The most likely marriage of George and Martha was in the third quarter 1838 in Leicester when a George BURTON married Martha WARD.  In a similar time period there were two other marriages of a George BURTON to a Martha and one birth of an Adah. These are all in other parts of the country and so are less likely candidates.
Who was Reverend E H BURTON?
The 1851 census found Edwin BURTON as the minister of Clarence Street Chapel and living in Regent Place, Kingston with wife Elizabeth and children William, Thomas and Alice.  Ten years later he was named as Edward Harris BURTON and was the Baptist minister of Clarence Chapel.  He was born circa 1813 in Cotton-in-the-Elms in Derbyshire which is actually Coton in the Elms.  His wife was born in Loughborough at about the same time.  The coincidence of ages and the area of England make the assumption about the origins of George and Martha likely to be correct.
Newburgh New York or Newbury?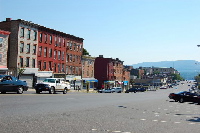 Although the Town of Newburgh is now in Orange County it was in Ulster County until 1798.  The two names are derivatives of each other and Newbugh appears to have been the spelling used for two hundred years though there is an interesting entry in Encyclopaedia perthensis or Universal dictionary of the arts, sciences and literature, part 16 page 22 published 1816.   This describes Newbury or Newborough as a flourishing town in Ulster County.  There is no Newbury in New York State but it is just possible that as late as 1850 certain local areas referred to  Newburgh New York  as being Newbury and still in Ulster County.
By Roy Montgomery, HGS Researcher