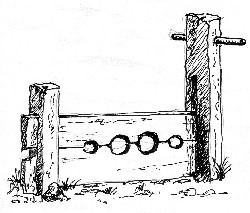 Punishment in Hampshire Quarter Session Courts – 1800
Punishment in Hampshire Quarter Session Courts often involved whipping as well as imprisonment.
Quarter session courts punishment in 1800 was vastly different from today.  An example is the Portsmouth and Winchester quarter sessions reported in the Hampshire Telegraph on April 28 1800.  The cases reported in Portsmouth included 3 men transported for 7 years and another 9 found guilty with various sentences.  There were also 6 found not guilty and 5 cases were not prosecuted.  In Winchester there were 11 guilty verdicts and 7 discharged.
Painful punishment by whipping
As well as being sent to prison part of the quarter sessions punishment at that time involved whipping. Four criminals in Portsmouth received this punishment:
Thomas WILLIAMS stole some stockings and handkerchiefs and as well as receiving 1 month in prison was publicly whipped.
Joseph HELLYARD stole a bullocks heart and received 3 months as well as being whipped once in public.
Margaret MORGORVEN stole some printed cotton and was imprisoned for 1 month and was privately whipped.
Ann DAGGER stole a pair of shoes and was sent to prison for 1 month and was privately whipped once.
In Winchester three men were convicted of a felony and were publicly whipped as part of their sentence. A public whipping often took place at the location of the crime:
John GREEN was imprisoned for 12 week before being sent to Basingstoke to be whipped.
Richard WHITE was imprisoned for 1 month and then sent to Alton to be whipped.
Richard DAWKINS was imprisoned for 4 weeks and sent to Ringwood to be whipped.
Finding out more about the guilty?
With no census at that time it is almost impossible to identify who the guilty were.  By using the HGS indexes the only possible identification is of a Richard WHITE in Alton who was baptized on 17 August 1766 and married Amy EVANS on 20 March 1797.  No baptisms of children were found but Richard was buried on 9 December 1813 aged 47 and Amy was buried 20 November  1839 aged 69.  All these events took place in Alton.
Who awarded the quarter sessions punishment?
The Mayor of Portsmouth William GOLDSON was one of those who handed out the quarter sessions punishment.  He was baptized on 8 June 1758 in Portsea St Mary at which time he was already about 2 years old.  He was mayor in 1799, 1805 and again in 1814.  His death was briefly announced in the 24 February 1817 issue of the Hampshire Telegraph as being on 16 February.  He was buried in Portsea St Mary on 20 February.  His age was given as 60.
The chairman in Winchester was Charles Shaw LEFEVRE who lived in Heckfield Place.  He was born in Yorkshire as Charles SHAW on 20 September 1759 and married Helena LEFEVRE in 1789 after which he combined the two surnames.  As well as being a magistrate he was also MP for Newtown, Isle of Wight from 1796 to 1802 and for Reading from 1802 to 1820.  He died on 27 April 1823 and was buried in Heckfield church where there are 9 monuments to the family.
Roy Montgomery
HGS Researcher