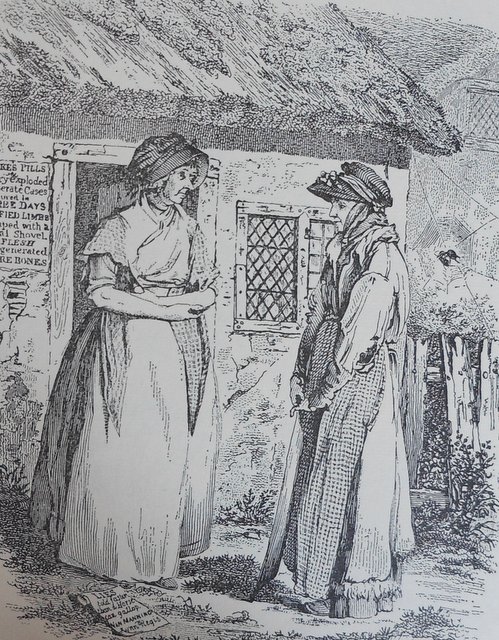 Quarter Sessions Court Report 1817
Quarter Sessions Court reports can reveal interesting details. Here we go on to discover more about the life of a young victim of an alleged indecent assault.
A Hampshire Telegraph report of the Winchester Quarter Sessions Court from July 21 1817 named Thomas NEVILLE as charged with an apparent indecent assault. This took place on July 5 on an 11 year old girl in Crawley.
Harriet HAWKINS was sent by her mother to the defendant to make tea for him, when the alleged assault was committed. She left with Robert PAYNE but failed to mention the assault to him or to her mother. She also saw the accused the next day and a fortnight later but no complaint was made. The defence comments were that the charge was easy to make but hard to prove. As a consequence NEVILLE was acquitted.
Finding out more about Harriet
The HGS marriage index revealed that Harriet's parents were George and Sarah who were married on August 19 1802 in East Stratton where both were resident. He was a carpenter. When Harriet was baptised on August 31 1806, the family had moved to Crawley. The 1841 census found Harriet living with her parents and older brother James in Crawley, though by this time she had married James GREEN. Ten years later her parents were still in the village but a search of the census failed to find Harriet. The 1861 census revealed that Harriet was now a widow and a house keeper for her father. He was subsequently buried aged 84 in Crawley on November 11 1865.
Looking for Harriet in the 1871 census found her as Harriet GRIGG living with her husband George in Crawley. This prompted further searching in the GRO and Parish registers to find that she married widower George in Crawley on October 9 1862. In 1881 both were still in Crawley although when George was buried in Crawley on January 21 1883 the burial register said that he was from Winchester.  Harriet eventually died in Winchester aged 84 and she was buried in Crawley on May 24 1892.
Where could we go next?
I have not managed to find any baptisms for children of Harriet and James GREEN or Harriet and George GRIGG. If somebody has additional information on any baptisms or other details on HAWKINS, GREEN or GRIGG names in Crawley please use the Research Enquiries form  to send them. From a brief report of a Quarter Sessions court appearance a lot can be found but any further details would be welcome.
Roy Montgomery
HGS Research Centre