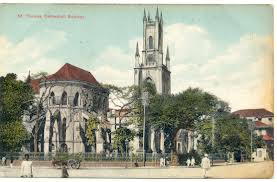 Portsmouth couple married in India, 1899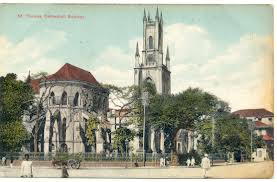 In the Hampshire Telegraph of January 13 1900 the marriage announcement appeared for Henry George Norman WHITE and Eva Mary CURTIS.  They  married on October 20 1899  in St Thomas Cathedral, Bombay by the Rev BARHAM.   The announcement said that Henry was the eldest son of H WHITE of St Andrews Road, Southsea.   Eva was the second daughter of W Lucius CURTIS of Telegraph Road, Southsea.
Who were Henry and Eva?
The 1891 census found young Henry WHITE living with his parents Henry G and Eliza J and five siblings at 73 St Andrews Road.  His father described himself as a Professor of Maths and Physics. In the 1901 census his father was headmaster of the Dockyard School.  In 1881 he was at Sheerness and also the headmaster of the Dockyard School.  Ten years earlier in 1871 he was an assistant master at the same school.  The marriage between Henry George WHITE and Eliza Jane CALLAWAY took place in Stoke Damerel, Devon in 1868. Before coming to Portsmouth most of their early married life was spent in Sheerness where Henry was born in 1877.
Eva CURTIS was harder to trace. In the 1895 Kelly's Directory I managed to find William Lucius CURTIS living at 27 Norfolk Street where he was described as involved with a boys school.  In 1901 he was living at 103 St Andrews Road with his wife Eliza Jessie and five children and where he was described as a tutor.  The marriage between William Lucius CURTIS and Harriet Elizabeth BEAZLEY took place in 1869 in Portsmouth.  Harriet was Eva's mother and died in 1889 in Portsmouth.  William's second marriage was to Eliza Jessie FULLER in Portsmouth in 1890.
Why go to India?
I've not yet discovered why or when Henry WHITE went to India but a Miss E M CURTIS departed from London for Bombay on 28 September 1899.  She sailed in the ship "Egypt".  The marriage between the two is confirmed by the indexing done by the Families in British India Society.  They have indexed the Ecclesiastical & Registry Office marriage records for Bombay and have found Henry G N WHITE marrying Eva M CURTIS  in 1899.  The GRO style reference is volume 82 folio 355 and is available on LDS film 523883.
Eva's stay in India was brief. An announcement in the Times of India said that Eva Mary WHITE died in Lucknow on August 15 1901.  She was the wife of H G WHITE who was the Assistant Loco Superintendent on O & R Railway.  Eva was buried in Nishatganj Cemetery.
Roy Montgomery
HGS Researcher