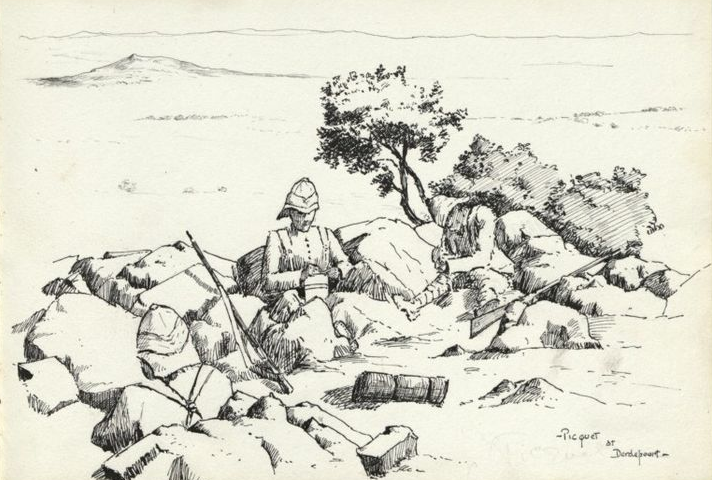 Old newspaper articles and research
Old newspaper articles can provide rich reference material for the family historian, but use other records to dig deeper and so much more can be revealed
Old newspaper articles can be a source of fascinating detail relating to our ancestors lives and with patience and tenacity it is surprising what they can reveal. As with all research it's a question of getting started and a lot of lateral thinking. Here HGS Researcher Roy Montgomery reveals how he unpicked a small article from the Hampshire Telegraph of 1900.
The Hampshire Telegraph miscellanea
Saturday 20th January 1900 (Births, Marriages and Deaths)
Sgt W D Sales (reservist) of the 6th Inniskilling Dragoons was killed in battle at Rensburgh, South Africa. He was the second son of J C Sales of 35 Queens Road, Buckland (Portsmouth), formerly of 11 Ernest Road. He was 31 years old when killed.
Searching Boer War records
The date on which he was killed was not in the announcement. Searching through the Boer War records in the military section of FindmyPast, there is a record of Lance-Sergeant W D SALES, number 3006, of the 6th (Inniskilling) Dragoons who was killed on 4th January 1900 at Colesberg.  The records show that he had been awarded the Queen's South Africa medal clasp, Cape Colony.  It also includes a brief description of the battle at Colesberg along with references.
Interestingly, the National Library of Australia, has, amongst it's digitized newspaper articles, a description of the Battle of Colesberg dated 6th January 1900. The Anglo Boer War website has some very good material about the battle that occurred in the first week of January when W D SALES was killed.
Searching Census records for more detail
Unfortunately the Army records did not provide his forenames, so it was a case of trying to discover them through the census records.  At first, the searches for a W D SALES failed to find him but a search of the 1901 census found Joseph C SALES living at 35 Queen's Road in Portsmouth.  This was the father of W D SALES. He was a house and business agent and although his wife was not present he did have a daughter, Martha E aged 23, living with him.
Joseph was born in Yorkshire but his daughter Martha was born in Chichester, Sussex. Assuming that the family may have been in Chichester in 1871, a search of census records revealed them living in 67 East Street, Chichester. Joseph Chesman SALES lived there with his wife Harriet and five children, including one called William Downes. At that time Joseph was a tea dealer.
Birth and marriage details complete the picture
A check with the GRO records (available on FreeBMD) showed that the birth of William Downs SALES was registered in the June quarter, 1868 in Chichester. Two of the children had Downs as their second christian name, which prompted the thought that maybe the mother's maiden name was DOWNS, and this was proved by a further check with the GRO.  In the June quarter of 1862 Joseph Chesman SALES married Harriet DOWNS in Brighton, Sussex.
There are many more questions that arise from this small article in the BMD column. Why was Joseph a reservist and how were they called up? The Anglo Boer War website has a very good description of what the process was.
Was William married and did he have any children?
So with a little bit of lateral thinking, the flesh has been put on the bones of a small article. There is a story waiting to be revealed behind each old newspaper article.
The picture reproduced (co1069) is from the Colonial Office photographic collection at the National Archive and can be used under a Creative Commons share alike licence.

The article was written and submitted by HGS member and researcher Roy Montgomery.