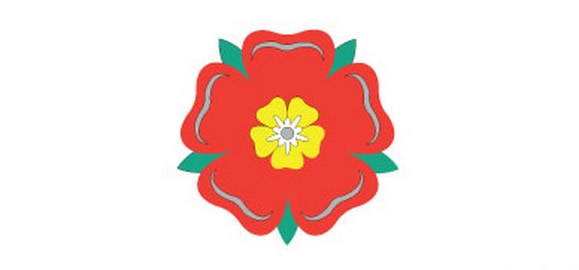 The Hampshire Rose – origins
The Hampshire Rose – its origin remains a mystery!
The Hampshire red rose has been adopted as an emblem by organisations throughout the county – including the HGS! The symbol varies from a single or double rose, to the Tudor Rose depicted on King Arthur's round table in Winchester. But where did it originate?
Could it have evolved from 'The Golden Rose of Provence'?
Believed to be the original centrepiece of King Arthur's round table, and the badge adopted by Winchester born Henry III after he married Eleanor of Provence in 1236.
Or did it derive from the Lancastrian red rose?
The initial link between Hampshire and Lancaster was made in 1283, when Henry IIIs younger son, the Earl of Lancaster & Leicester, brought Hampshire's Somborne Hundred into the Earldom of Lancaster.
Whatever the origin of the Hampshire rose, it could forever remain a mystery!
To learn the full story about the Hampshire Rose, read this fully referenced article by HGS Member, Ken Smallbone.