Netley Military Cemetery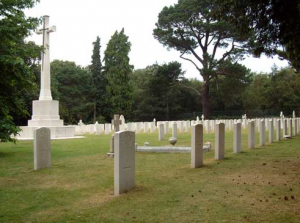 Family historians, as we all know, spend an awful lot of time in cemeteries, not just searching for graves of those in their own family tree, but taking an interest in names on all the headstones.
One very interesting cemetery in Hampshire is the Netley Military Cemetery, overlooking Southampton Water. It exists here because of the Royal Victoria Military Hospital that was built in Netley in 1855. It was built to treat and nurse the soldiers who had been injured in the Crimean War. It was an enormous hospital with a thousand beds. It was built in Southampton in the hope that troop ships could dock at a specially built pier, but this never became practical and in the end a railway was built to bring the injured to the hospital.
Those that died in the hospital were buried in a cemetery created close by, with its own chapel. The hospital continued to tend military personnel and when WWI broke out the hospital expanded doubling its bed capacity. By the end of the war, over 50,000 people had been treated at Netley. Maybe your ancestor was amongst them?
During WWII, the Americans used it as an American Military hospital.
If you think you have a family history connection with Netley Military Cemetery, then an excellent place to begin research is to visit Julie Greens website which concentrates on exploring and researching the people whose graves she finds there.
It is not only British service men and women from WWI and WWII who are buried in the cemetery, there are burials for soldiers from all over the world:
49 Australians   42 Canadians
12 New Zealanders   6  South Africans
5  Indian   15 Belgians
1  Polish   1  Austrian   68 Germans