George Weston Collings (1889-1981) in the First World War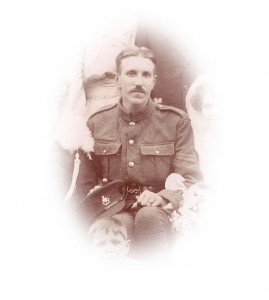 My grandfather, George Weston Collings, was working as a grocer at Williamsons Ltd in Muswell Hill in 1914, when he signed up at Chelsea Town Hall on 12th November for service for the duration of the war.  He was in Muswell Hill because he moved around to wherever he could get an increase in wages to support his mother and sisters at home in Brighton.
He gave his permanent address as 130 Hartington Road, Brighton.  He belonged to the National Amalgamated Union of Shop Assistants (Membership Number G4701).  His health on his medical examination record when he joined up was excellent (A1).  He was 5ft 10½ in tall, and weighed 136 lb.
He enlisted in the 10th Battalion of the Royal Sussex Regiment (his home county) number 4524, and was initially posted to Dover, presumably for training, where he stayed until 16th May 1915.  From there he went to Colchester until 13th September 1915 and then to Shoreham, where he waited until he embarked at Folkestone with the British Expeditionary Force on 23rd September 1915.  Once in France he was posted to the 9th Battalion RSR (23rd September 1915), which was part of 73 Brigade, 24 Division and XI Corps.  From the War Diaries of the Battalion he is likely to have been at the Battles of Loos (September – October 1915), and Guillemont (August 1916).
Following the non-conclusive Battle of Loos where the Battalion, which was part of 73 Brigade, lost 50% of its men (18 Officers and 361 men) in an attack on Fosse 8 (Fosse = pithead of a coal mine). He was promoted to Lance Corporal on 16th November 1915 in the field  (there was great criticism later of the decision to use XI Corps in this battle because they had only just disembarked from their ships, had force – marched for several days, were hungry and weary, and not trained in trench warfare).
In February 1916, the Battalion was engaged in a battle at Hooge near Ypres, and in other engagements in that area.  George Collings was promoted to Corporal on 10th May 1916 (also in the field).  The Battalion then moved to the Somme area ready for the onslaught in the summer of 1916.
On 18th August 1916 George Collings was fighting in the trenches near Guillemont when he was sent back to the Command Post by his Platoon Commander with a message. Whilst he was supposed to go back through the trenches, which provided cover, the officer told him to 'go over the top'.  This he did, but was hit by a rifle shot in the right shoulder.  He crawled on his hands and knees for several hundred yards to a dressing station, and was then sent to the field hospital at Rouen on 20th August.   After 2 weeks there, on 3rd September 1916 he was evacuated by ship (H. S. Makino) to England to the Welsh Hospital at Netley near Southampton, where he arrived on 4th September.  After 6 weeks he was transferred to the General Hospital at Brighton (2nd Eastern), presumably to be near his family, where he stayed until the 20th December 1916.
In 20th January 1917, he was posted to the Command Depot at Tipperary for recuperation, where he stayed until 16th July 1917.  He was then posted to the Labour Corps at Newhaven where he was graded Bii fit and his regimental/Corps number changed to 308284, and then to 608th B Employment Company at Newhaven on 2nd November 1917.
Whilst still in the Army and based at Newhaven, he married Lilian Alice White at Brighton on 21st April 1917.
From Newhaven, he was posted to 612th HS Employment Company at Shoreham on 26th April 1918, and finally to No 10c Dispersal Station at Crystal Palace on 21st February 1919, where he was demobbed on 22 March 1919.  He then had to find a job.
He tried to join the Metropolitan Police (which paid higher wages) but because of his war injury the MPS would not class him as A1 fit.  His last Army Medical Board on 14th February 1919 only classed him as Bii fit. It was therefore suggested that he tried the Railway Police, which he duly did and was taken on by them.  He had the choice of Nine Elms or Southampton, and chose Southampton in preference to London.
At a medical board for a war pension in March 1920, it was agreed that he was still suffering pain and disability from the gunshot wound to his right shoulder (to the level of 20%) and he was awarded a war pension.
Graham Mist (Grandson), January 2013
Sources:
1)      The National Archive (TNA) WO364/5111 (war pension record) pages 0602-0619
2)      TNA WO372  Medal card index
3)      War diary WO 95/2219
4)      His daughter's  (Mona Lilian Collings) memories
5)      Commonwealth War Graves Commission Website (www.cwgc.org/somme  )for the Battles of the Somme and Ypres and maps
6)      The Long, Long Trail (The Great War) (http://www.1914-1918.net ) for details of Army structure down to Battalion level, engagements of each Division, and detailed accounts of Battles.
7)      Old Front Line – Battlefields of WW1 (http://battlefields1418.50megs.com/ )for Battalion histories and pictures of Battlefields
8)      Imperial War Museum – description of  the Battles of the Somme http://www.iwm.org.uk/server/show/nav.00o