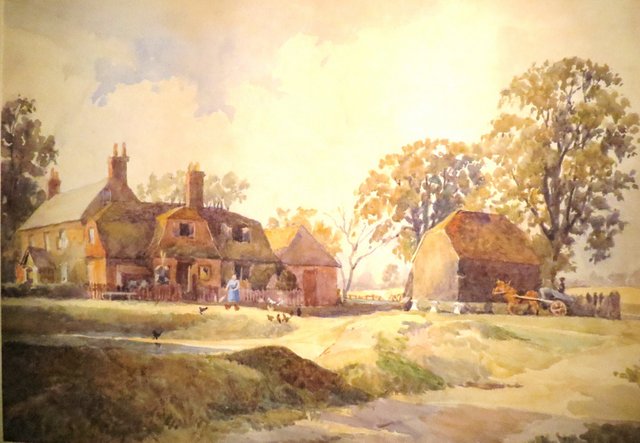 A Hampshire picture mystery
Can you help to unravel this Hampshire picture mystery posed by an HGS member?
The picture is of Middle Park Farm by local Havant artist, William Grant and was one of five or possibly six painted for my family between 1910 and WWI. The whereabouts of three are known, can anyone help with the others?
The farm buildings were situated on the north side of the present Middle Park Way on the Warren Estate, which is on the northern outskirts of Havant.  The farm was demolished in the early 1960s to make way for the housing development.  My great grandfather Frank Budden was the tenant farmer of Middle Park Farm from 1907 until he retired to Emsworth in 1919.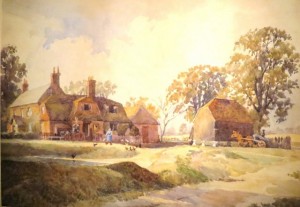 I think that the artist originally painted a picture of Middle Park Farm for each of the five sons of Frank & Ellen Budden and possibly another for a sister.
The family history is as follows:
Frank Budden was born at Moyles Court just to the north of Ringwood in 1857 to James & Prudence (nee Oxford) Budden.  

1861 James and his family were at Wick Farm, Christchurch, which was Frank's given place of residence when he married Ellen Eliza Court at her home town of Chichester in 1878.

Their first son, Frank  (my grandfather), was born 1878, at Worplesdon in Surrey

In the 1881 census, the family, along with a second son Wilmer (b. 1880), were at Grove Farm on the banks of the Stour near Christchurch.

By the 1891 census Frank & Ellen were at Maize Coppice Farm just south of Rowlands Castle in the triangle between the railway line and the road to Emsworth.  At this time they had three further children, Wilfred (1882), Lillie (1884) and Bertie (1889).  Subsequently Stanley was born later in 1891 and Horace in 1893.
Much later Wilmer and Wilfred took up the tenancy of Maize Coppice Farm and ran it until around 1950.
The family line descends from a Robert Budden whose son Robert was born at Canford Magna in 1687 and died there in 1734. Later generations moved to Holdenhurst.
As well as my picture, which came from my grandfather, there is another in the possession of a grandson of Wilfred Budden and also one on display at the Havant Museum.  Wilmer, Bertie (aka Jack) and Stanley all died without issue, so the version in the Havant Museum had presumably belonged to one of them.   I have no knowledge of the whereabouts of any others, so it would be interesting to hear if anybody has one or has seen one on display elsewhere.
Tony Budden – HGS Member