The 'Green Post' Public House Case 1850
The 'Green Post' Public House Case 1850
Newspapers are the source of many fascinating articles for family historians, revealing surnames, locations, relationships and so much more. This snippet from the Hampshire Telegraph and Sussex Chronicle is about an incident at the Green Post public house in Portsmouth.
The pub still stands but the characters involved in this dispute in 1850 are long gone.
Do you recognize any of these surnames?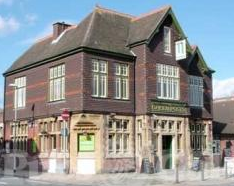 Summary of a case in the Hampshire Telegraph, Saturday 5 January 1850

A case brought before the magistrates, consisting of the Mayor J O TRAVERS and E CASHER. On Saturday 29 December 1849, James FOGDEN and his wife Sarah were accused of assaulting George SANDFORD.
Mr LOW represented the complainant and Mr FIELD represented the defendants.  The defendants were the landlord and landlady of the 'Green Post' public house in North End Portsmouth and the assault was alleged to have taken place in the pub on 20th December 1849.
Assault by both parties
The dispute arose over the cost of two pots of beer, whether it was 4d or 6d for a pot, with SANDFORD offering to pay 8d for the two.  The landlord refused to accept this sum and when SANDFORD tried to leave the pub, the landlord and his wife stopped him. He was knocked down and then beaten by the landlord.
Giving his evidence the landlord said that after stopping SANDFORD, he was hit in the mouth and his wife was insulted, so presumably triggering off the assault.
Landlord found guilty
Witness statements for both sides were conflicting, but the decision of the Magistrates was that by his own admission, James FOGDEN prevented SANDFORD from leaving and so committed the first assault, consequently he was found to be guilty.  He was fined 40s with 11s 6d costs which he paid, otherwise he would have spent one month in prison.  Martha SANDFORD was acquitted of the charges against her.
An interesting extra…
The only James FOGDEN in the Portsmouth area in the 1841 census is onboard the Leviathan convict ship in Portsmouth harbour.