Wills and How to Find Them
Wills – A Valuable Tool for Family Historians
Family historians are excellent at ploughing through mountains of old documents, but are often daunted by the prospect of tackling wills. Yet wills are one of the most valuable tools in the family historian's armoury. Whether you are a beginner or an expert, this short guide will help you take your will research further.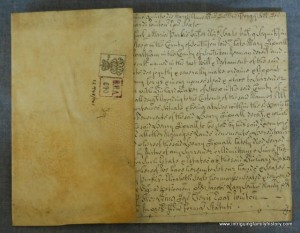 Many family historians think that their family did not have enough property or money to bother making a will, yet you would be surprised by how many people left a will, despite having little to leave. A will can be helpful in linking family members together, so it is always worth checking to see if one exists. A family member may have been a testator or a beneficiary.
A

testator

is anybody who has made a will, hence a deceased ancestor may be a testator.

A

beneficiary

is anyone who receives money or other benefits from a will, hence they are often close family members of the testator.
 Before 1858 a will had to be proved in a church court
In order for a deceased person's executor to be able to wind up the estate and carry out the provisions in the will, it must first have been proved in a church court. Executor is a legal term referring to a person named by a maker of a will or nominated by the testator, to carry out the directions of the will.
The executor had to take the will before a court official to confirm its validity, and the process had to be initiated within four months of the date of death. Once done, probate could be granted and the executor could deal with the estate.
Wills were proved in Church of England courts operating under canon law. These laws dealt with moral offences, that is the spiritual discipline of Church personnel and their parishioners. The church court had no power to harm the body of a person or to fine. Instead, the court had power to penance and excommunicate. Within these limitations, the church court offered a means of litigation for the ordinary person. They could deal with a number of issues including the proving of wills, disputed wills or problems with administration.
Finding wills proved in church courts

In Hampshire there were several local church courts e.g. Archdeaconry, Bishopric and Peculiar; fortunately these records are held at the Hampshire Record Office and can be easily searched for in their online catalogue

.

A pre-1858 will could also be proved in the Prerogative Court of Canterbury (PCC) or for northern counties in the Prerogative Court of York (PCY). This particularly applied to the wealthy. PCC wills can be found at the National Archives .
Since 1858 all wills for England and Wales have been proved centrally
This was after the complicated ecclesiastical court system of proving wills was stopped. Jurisdiction for granting probate then passed to the State, under the secular Court of Probate.

How to find later wills

There is a very useful government website which identifies how you can search for a will and obtain a copy. This service at present costs £6 (Feb 2013).
You can also search on ancestry.co.uk where the probate indexes from 1858 to the 1960s have been digitised. The indexes themselves can be useful; not only do they give the date of death of the testator but also the name of the executor, as well as the value of the estate.
You will also find copies of Hampshire proved wills dated after 1858 on microfilm at the Hampshire Record Office.
This article is aimed at Hampshire wills. For any information on wills proved in other counties it is worth looking at both the County Record Office or Family History Society concerned.