War memorials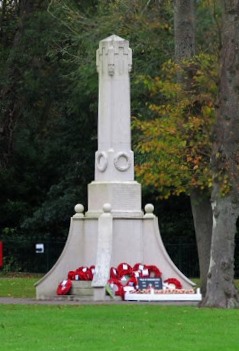 If your ancestors served in, but didn't survive, World War I or World War II, their names may appear on a war memorial in the area where they lived. A Google search may reveal if there is a war memorial in their home town or village.
Some villages and towns traced the names on the war memorials as part of the centenary in 2014 so you may find some more information from the local history or family history society there.
Their names may even be on a memorial in their places of work or old school.
You can also search the Commonwealth War Grave Commission website at www.cwgc.org  and see if their names appear on a national monument or a local one. This site may also give you information about their family too.
The War Grave Photographic Project at www.twgpp.org has over 1.8 million named graves and memorials and it is their aim to record, and make available, photographs of as many war graves and memorials as possible so that there is a pictorial record of yesterday's sacrifices for tomorrow's descendants.
A useful website to look at is http://www.roll-of-honour.com  as this site has included many war memorials and transcribed the names.
Another good website – https://www.warmemorialsonline.org.uk – will let you know precisely where your ancestors may be listed in the area they were living at the time of the war.