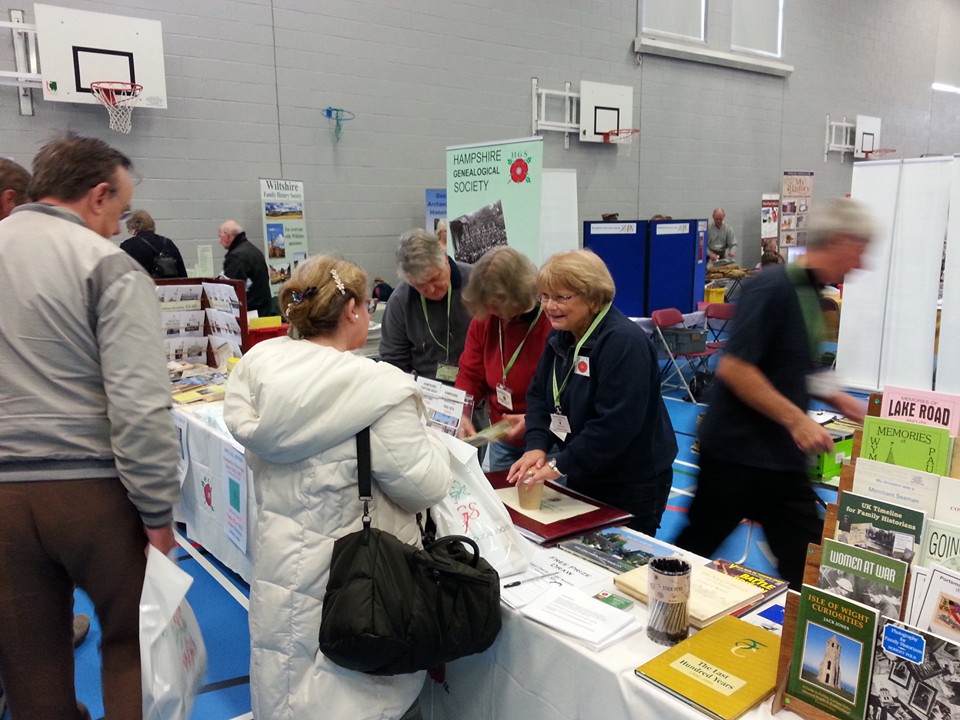 HGS Open Day 2017
Spotlight on WWII – Britain at Home
Sunday 8th October 2017  10:00 – 16:00
FREE ADMISSION – FREE TALKS – OPEN TO ALL
HGS is staging its 2017 Open Day on Sunday 8th October, at The Everest Academy in Basingstoke, starting at 10.00 am. with a focus on WWII – Britain at Home; featuring guest speakers David Annal, Mark Bayley and Philip MacDougall.
OPEN TO ALL, this year's event will give you the chance to delve into the records and uncover the facts behind what happened in Britain while our soldiers were away at war.  Discover who served on the Home Front.   Take a look at those affected by evacuation, detained as prisoners of war and your relative's day-to-day existence living with air raids and rationing.   Look at what can be found in the 1939 Register.
Our bookstall, research advice and lookups will also be available, working alongside a variety of stands from other family history societies and local history groups such as The Thorneycroft Society and Home Front History.
The Everest Community Academy, Oxford Way, Basingstoke
Ample free parking in the main Everest car park (accessed via Oxford Way RG24 9FP) or the overflow area at the front of the Academy (accessed via Don Allen Drive / Sherborne Road RG24 9UP)
Disabled access to the building via either car park and to all areas inside.  Disabled toilets at ground level.
Bus service:  For those travelling by rail, take the number 6 bus from the railway station and alight at the Tobago Close bus stop.  Buses run every 20 minutes (12, 32 & 52 mins past the hour).  It is a ten minute walk to the Academy.  https://bustimes.org.uk/services/swe_44-6-_-y10 for timetable.
Guest Speakers
We are delighted to announce the participation of three well known guest speakers.
David Annal, a professional researcher in family history and former Principle Family History Specialist at the National Archives, will give a talk entitled 'The Enumerators Strike Back'.
David's talk will put the spotlight on the enumerators, the men and women who created the UK's census returns.   Their story is an intriguing one dating back to its inception in 1841, which continues through each successive decennial census since.
The talk will give you an insight into the hostilities they faced from householders and look at how they were at the mercy of the decision makers (census authorities) as they created one of the most important sets of records used by family historians today.
Mark Bayley, Head of Online Content and Company Director at S&N Genealogy a leading subscription website: TheGenealogist.co.uk, joins us to give a talk entitled 'Breaking Down Brick Walls in Your Family History Research'.
Mark will explain how you can tackle the stumbling blocks with the use of new search strategies, such as: searches with the individuals' forenames, keyword search tools, criteria other than a name to search on and other advanced search techniques, including: unique data sets, Non-Conformist records, Non-Parochial records, Fleet marriages, Will images, Parish Records, Directories and Newspapers.
Philip MacDougall is an author and historian with a special interest in the 1930s and how Britain prepared for the certain war that was to come in 1939.
His talk 'If War Should Come', based on his book of the same title, will explore just how prepared Southern England was for the outbreak in 1939 especially the Home Front: how plans were made for food supplies, arrangements for evacuation, Air Raid precautions, etc.
Light refreshments available from 10.15am to 3.30pm in the café.  Tea, coffee, soft drinks, sandwiches, crisps, cakes etc all at reasonable prices.
Stallholders will include:
Sussex FHG  *  This Way Books & Historical Maps  *  FACHRS: Family & Community Historical Research Society *  East Surrey FHS  *  M M Publications  *  Dorset FHS  *  Friends of the Curtis Museum  *   Surrey History Centre  *  British Association for Local History (BALH)  *  Romsey Local History Society  *  Berkshire FHS  *  My History  *  Wickham History Society  *   Unknown Soldier – Military Archive & Soldier Research Service  *  Anglo-German FHS  * Basingstoke Discovery Centre  *   S&N / The Genealogist  *   CAB Search *  Friends of the Willis Museum  *  R A Longley Publications  *  Guild of One-Name Studies  *  Andrew M. Punshon *  FIBIS (Families in British India Society) *  Merlin Genealogy Solutions
As more stallholders are confirmed we will be putting the details on the website and our Facebook page, so don't forget to keep checking back!