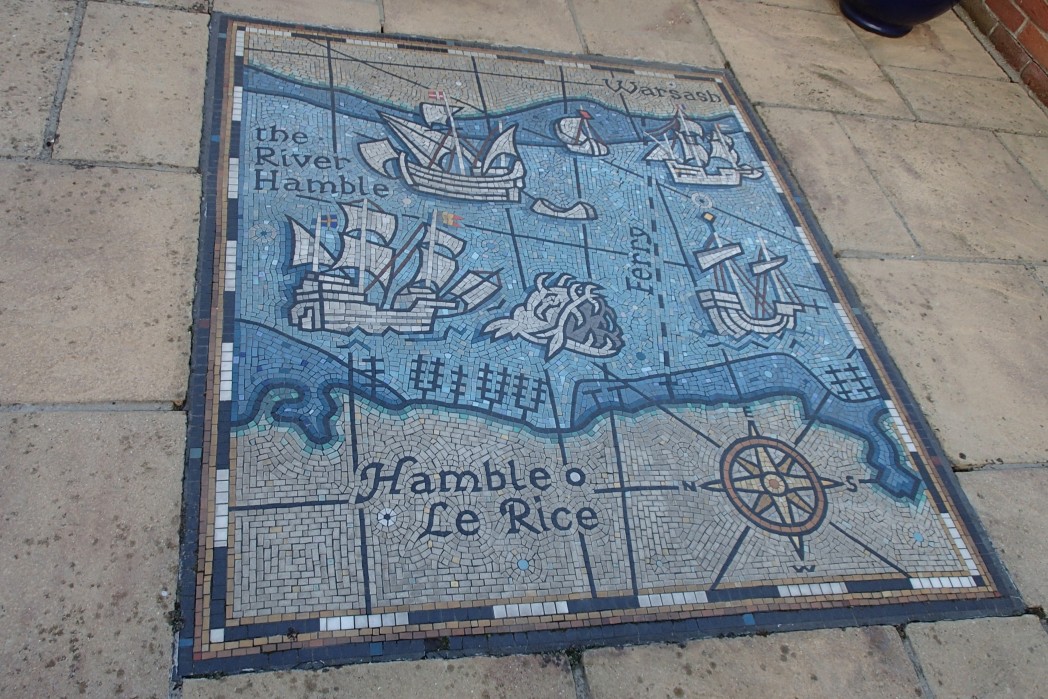 Hamble village was the location of HGS Fair Oak group's guided walk in June 2014. Their guide, Eric Reed, disclosed fascinating evidence of Hamble's aviation and shipbuilding history at every turn.
HGS Fair Oak Group set out for their annual guided walk, this time to Hamble village, led by regular guide and fellow HGS member Eric Reed. Members learnt about the interesting history of Hamble, ranging from it's airfields, land and seaplane production and important aviation role in WW2, to evidence of a former grand house.
About Hamble
Hamble is long established in fishing and shipbuilding. The village is set on the River Hamble and is famed for sailing and aviation. Over 5,000 yachts moor on the river and an aircraft factory is still sited in Hamble Lane. A distinct red Folland Gnat plane (designed and built at Hamble) stands near today's GE Aviation factory. The site was previously home to Follands from 1937, Hawker-Siddeley Aviation from 1959, British Aerospace from 1977, then Smiths.
Hamble has been home to land and seaplane production since 1914. A V ROE, in 1908 the first Englishman to fly, came to Hamble, bought fields from a Farmer BROWN and built a factory and houses for workers. A small airfield came after the end of the Great War from more fields and meadows. Air Service Training Ltd was founded at Hamble in 1931. The Earl of Hardwicke's estate was purchased, and a factory, slipway and housing estate were built. Hamble was one of the country's biggest Spitfire repair bases and in WW2 3,000 workers were bussed in or came by train to Hamble Halt station.
Hamble's Name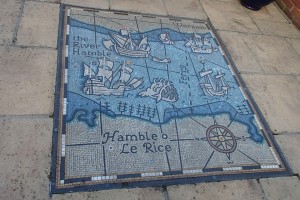 Named Hamelea in 730 AD and Hamble Le Rice by 1354. 'Hamble-en-le-rys' means 'the village built on land rising from water'. French Benedictine monks established Hamble Priory circa 1100. St Andrew's Church, where Sir Alliott Verdon ROE of Hamble House was buried in 1958, stands 50 feet above sea level.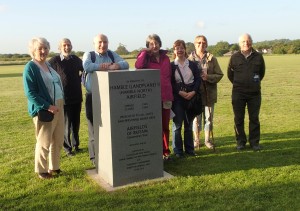 The Walk
Eric led us opposite Hamble Primary School to the 'Rail Trail'. This circular walk follows the century-old track which begins in Hamble Lane where two sets of unused crossing gates still exist. On Hamble's North airfield Eric pointed out one old hangar still in existence. Our visit came two days after the Airfields of Britain Conservation Trust (www.abct.org.uk) 7th June dedication of a plaque commemorating the Air Service Training role of the airfield until 1984.
Hamble had many substantial grand houses:
• Grantham Lodge
• The Copse
• Hamble House built in 1740 by shipbuilder JANVERIN
• Riverside House
• Sydney Lodge started in1789
• Ravenswood
Ravenswood was demolished in 1930 and replaced by the Crowsport Estate of Art Deco houses. Walking through the estate we passed:
• Lukes Close, named after local boat builders
• Stone remnants of probably the icehouse at Ravenswood
• Well Lane, where a water supply and village pump was sited until 1909
• Rope Walk and Copperhill Terrace – sitting high above and named from past nautical days when tar boiled in coppers treated ropes and coated timbers of wooden ships.
Warsash Ferry
The Warsash Ferry across the River Hamble is 500 years old. The ferry was hand rowed until 1940 although the modern boat carries 12 passengers. Both Warsash and Hamble played a vital part in D Day, with all oil through PLUTO pumped from BP's Hamble depot.
Gold Postbox and Quayside
A modern relic is the gold postbox in the Square honouring Olympic cyclist Dani KING.
Ascending Hamble's picturesque quayside, where the tide can still rise, maroon and waterlog properties, we encountered the King & Queen and The Victory, two remaining public houses. The Bugle survives, but its car park is gone for housing. The Royal Southern Yacht Club moved to Hamble in 1936 and acquired four cottages on the Quay.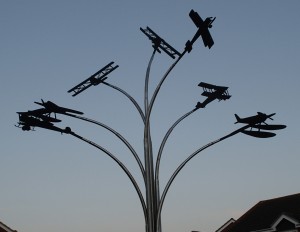 Walking back along School Lane, we rejoined Hamble Lane, then turned off via the modern Avro Court and Chadwick Way (commemorating Roy Chadwick, Lancaster plane designer). Here we viewed a modern mast statue of metal spitfire planes hanging in the air.
I have not mentioned things we did not visit. The Training Ship Mercury is long gone, as is C. B. FRY, famous cricketer and frequent visitor to Hamble. However, I will name Nicolas Robinson, author of 'Hamble; A Village History' published July 1987 ISBN 0 946184 32 1. His final words were "May Hamble remain a village."
I too recall the quiet days of taking the bus down to visit a friend in the mid-1960s, and it being the only vehicle in Hamble Lane – something that never occurs today.
By Sandra Naish