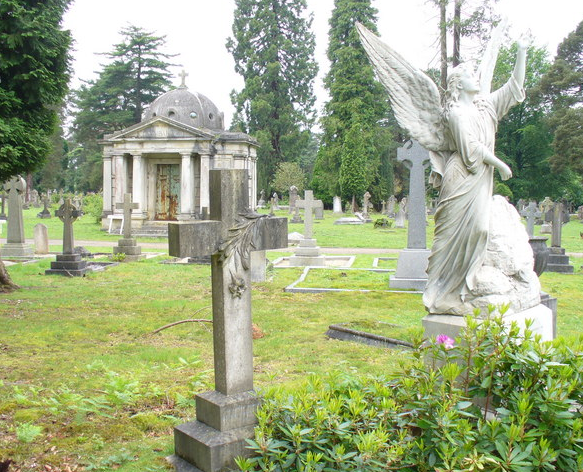 The Fleet and Farnborough HGS Group organized a trip to visit Brookwood Cemetery. A couple of dozen members attended, not the first visit by our group, but an opportunity to see the changes made and to give newer members the chance to visit this remarkable place. Notably to take in the serenity of the Glades of Remembrance, the railway station, and the (almost) uniqueness of the Russian Orthodox Church.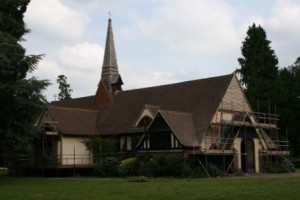 The cemetery was created in 1852 and is probably the biggest in Western Europe with over 235,000 burials.
Two of the notables buried there are John Singer Sargent d.1925 – the leading portrait painter of his generation, and William & Evelyn de Morgan – he was one of the Pre-Raphaelite circle, a friend of William Morris, a potter, and stained glass, furniture & tile designer.
Just to demonstrate how good it is to network for family history purposes, this tale should provide you with further incentive:
Lin Penny from the Basingstoke Group joined us just for this visit, as one is able to do under the auspices of the HGS, and she had a family rumour that her great grandfather Harry Smith – yes, Smith! – was buried in Brookwood Cemetery. After the tour she contacted the guide, John Clarke, by e-mail with the general enquiry: 'Was Harry buried there?'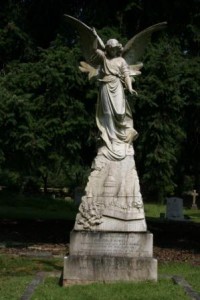 John replied: 'It would appear your great grandfather is buried in the Woking Ground at Brookwood, plot 43, the same side of the cemetery we explored on Sunday. His death predates the founding of the Imperial War Graves Commission, which is probably why he was buried in the "local" section of the cemetery. Did he die on active service, guarding the Powder Factory? The burial was in a 2nd class grave, but even if no memorial was placed, it should be possible to identify it, as this is one plot that was gridded. Moreover, his widow, Margaret, was buried with him following her death in December 1961, aged 90. If you would like copies of the paperwork from our archives relating to these burials, our search fees will apply. If your great grandfather did die on active service, this might be something you may wish to pursue with the Commonwealth War Graves Commission. They do keep an eye on the military graves in the civilian cemetery and I note from our copy list that Harry Smith's name does not appear on it'.
Lin paid her £35 and received the funeral records of both Harry and Margaret, and a photo of their headstone, which was under a tree! Then she waited for the Burial Register entries. Was it worth the money? Yes, absolutely. Lin had quite a conversation with John Clarke, who clearly loves his job and is very knowledgeable and helpful. He's very interesting and is also a librarian in his spare time.
Lin had a bit of a surprise about Margaret, as she died in Derby, although she was rumoured to be in Brookwood. Not in the woods at all then!
Lin went to the Surrey History Centre and found the Woking News and Mail newspaper and Sidney's death information. Not only that, there was a photograph of him. She adds "The only one we have! Absolutely wonderful and I'm thrilled to pieces!"
Lin then went back to Brookwood, and John told her exactly where Harry's grave was. His wife Margaret was there too, same grave, and with a headstone that included Sidney. Marvellous. Really, it doesn't get better than that. John has been exceedingly helpful too.
Unfortunately, Lin didn't get time to check the newspapers at Chertsey Library, or to see the Woking Memorial, or the tablet in Christ Church. – Harry or Henry and Sidney are mentioned on both. Just the perfect excuse for another day out!
HGS Fleet & Farnborough FHG guided tour by John Clarke of Brookwood Cemetery                
12 August 2012