Hampshire Baptism Index 1660-1751 (HCD014)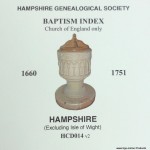 A searchable index to Anglican (Church of England) baptisms in mainland Hampshire for the period 1660 to 1751. Excludes the Isle of Wight.
Early records are difficult to transcribe. Until 1754 it was common to find baptisms, marriages and burials in a single volume and often intermixed. Compiling this index was an enormous task, when you consider that transcribers had to first separate the data, before starting the difficult task of deciphering often faded writing. This is a superb resource for those researching their Hampshire family history prior to 1837, when  compulsory civil registration began.
Requires Windows XP or later. Includes PDF version for Mac users or for earlier versions of Windows.
Background Historical Information
In 1538 Thomas Cromwell ordered that all parishes should keep a register of baptisms, marriages and burials. In 1597 an order signed by Elizabeth I required that these parish records had to be on parchment, and that previous entries going back to 1558 (the start of her reign) had to be copied into these registers. The content of early registers is often different, as it depended upon what the individual vicar wanted to record, and they were mostly written in Latin.
What will I find in this index?
It varies, depending on the parish and each individual vicar, but generally you can expect a surname and christian name, baptism date, the father's name and possibly the mother's forename. Annotations were often added if the child was illegitimate, these include 'base-born', 'bastard child' or 'spurious'. Sometimes other notes were kept such as a father's occupation or the family's abode.
Children were usually baptised soon after birth, but you may find examples where children were baptised several years later.
Product Ref: CD (HCD014)
Shipping: All orders are shipped by volunteer members from our office in Cosham. If in the UK, we aim that you receive your order within a maximum of 10 working days. Overseas addresses may take longer.
Prices:
UK by Post – £25.50 via Royal Mail
Collection in person – £23.00 from our Cosham office
Overseas by Post – £26.30
VAT is chargeable in accordance with current HMRC guidelines
Payment: Online payment is quick and easy by PayPal. Payment can also be made by UK Cheque, Postal Order or GENfair. For more payment information click on How to Pay.
Related Products: Other products you may be interested in include Hampshire Baptisms Marriages and Burials Indexes on CD and Hampshire Village Booklets.
For more Information: Click on How to Pay, How to become a Member or Make a Donation.